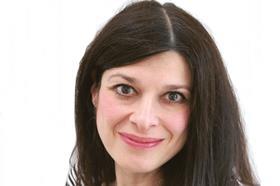 Unusually, I am writing about an event I was directly involved in. I joined the independent judging panel for the London leg of the Global Legal Hackathon (GLH) on the weekend of 23-25 February, which was organised by David Terrar of Agile Elephant and Rob Millard of the Cambridge Strategy Group and hosted by Pinsent Masons. It was a great weekend.
The Global Legal Hackathon was produced by a consortium of technology companies, which was led by David Fisher, CEO of legal blockchain platform Integra Ledger, and included IBM Watson. The concept was 'to bring together the best thinkers, doers and practitioners in law in support of a unified vision: rapid development of solutions to improve the legal industry, world-wide'. The brief was to build new technology solutions to support legal practice and access to legal advice.
Amy Braunz of Integra Ledger flew in from the US to observe the London event and ensure that the GLH rules – the hackathon happened simultaneously in 40 cities across six continents, involving 5,000 people in total – were adhered to. This was a not-for-profit event – it was free to enter; local organisers, mentors and judges were volunteers; and sponsors offered access to technology platforms and bought the obligatory hackathon pizzas.
My fellow judges were Christina Blacklaws, vice-president of the Law Society, Frank Jennings, a technology lawyer specialising in cloud computing, who has contributed to my articles over the years, and Dr Richard Sykes, chairman of the Cloud Industry Forum.
The hackathon was launched on Friday evening when participants brainstormed ideas and decided which were worth following up. We ended up with six teams of lawyers and others working in law firms, law students, technologists, coders, designers, marketers and more. The teams, assisted by mentors from technology and consultancy, spent the weekend working on their solutions.
On Sunday evening, each team presented to the judges, who used the hackathon's official judging rubric to score the presentations. This was to make sure that all GLH entries were scored on the same criteria. And it it was freely available online, to provide teams with guidance on developing and presenting their solutions.
The rubric was a detailed questionnaire covering three categories: user validation and feedback; design and implementation; and developing a feasible business model.
After the presentations, we formed a 'judgely huddle' to choose a winner, and although it was a close call, we decided unanimously that the 'home team' – Team PM from Pinsent Masons – had come up with the best solution: it worked, it had commercial potential, and it fulfilled all the criteria on the judging rubric.
The winning team, led by head of R&D Orlando Conetta, developed Apella, a blockchain app to allow partners to vote anonymously on innovation proposals. Pinsent Masons is a large firm, with partners all over the world, and the idea was to speed up consensus and drive innovation. Why is anonymous voting important when it comes to internal decisions in a partnership? Because it overcomes organisational politics to identify genuine consensus, which is a critical success factor for potentially disruptive projects.
Given that the Global Legal Hackathon was launched by the founders of a legal blockchain and the winner was a blockchain application, questions were raised about whether blockchain was the 'right platform' for the winning solution.
I asked Conetta why he chose specifically to work with blockchain to determine consensus across the firm on innovation (or other) decisions.
'We wanted to create a system which enabled all participants to completely rely on the outcome of an electronic vote, while maintaining voter anonymity,' he explained. 'Blockchain seemed to be a natural fit due to its distributed architecture. Users on a blockchain do not need to place their faith in the security of a central data store, or IT solution provider. Instead, the data and ledger is distributed among the users, and each node must validate all new transactions and blocks. Consequently, depending upon the consensus algorithm, a chain cannot be hacked with a new branch without the large-scale cooperation of participants of the network.
'Moreover, a blockchain transaction account is identified using a unique hash address, determined from their private key, that has no link to a user's personal information. Consequently, the result of a vote can be trusted by stakeholders through a transparent ledger that does not give away their identity. Therefore, big decisions could be advised by polling, with confidence in the results.'
Conetta made it clear that he does not believe that blockchain is the only way to conduct a fair and anonymous electronic vote. But confidence in confidentiality is important when determining genuine consensus in a partnership organisation. He wrote on LinkedIn: 'There are other vendor solutions in the space of polling and collaboration, but from our analysis they are not ubiquitous and innovation polling is far from a solved problem. We think the application of blockchain is relevant and unique among existing players in the market and would offer anonymity to voters and integrity in the auditing of results. A management team would be able to decide on a large financial investment with a greater degree of insight into the buy-in at partner level. The anonymity would ensure that vested interests were not able to influence a particular outcome, and that a third-party or system administrator had not been able to corrupt the ledger.'
Braunz from Integra Ledger said: 'The winners from Pinsent Masons demonstrated how the anonymity and immutability of blockchain can be useful in driving innovation at large firms. Voting on company innovation ideas is the tip of the iceberg for how blockchain can affect business, but starting with an idea such as this is the perfect way to get a traditionally technology-stale industry comfortable with the idea of blockchain for much more significant legal transactions.'
Polly the break-up bot
The close runner-up was the LipSynch A2J team with Polly, a smartphone chatbot to support litigants in person involved in divorce proceedings. This was the brainchild of mediator Toks Hussain and was developed by team members Alex Goff from IBM Watson, Keith Hardie, European marketing director at Bryan Cave, interaction designer Yee Mun Ooi and Forex paralegal Mariela Petsova, consultant Julie Gottlieb, Ian Broom of Fliplet and James Kingston of FromCounsel.
Polly applies IBM Watson's natural language processing (NLP) technology to create a conversational interface that includes sentiment analysis – to help moderate anger, for example, when developing arguments for negotiation or even litigation. Other features include clear explanations of divorce law, to help manage parties' expectations, and links to external resources.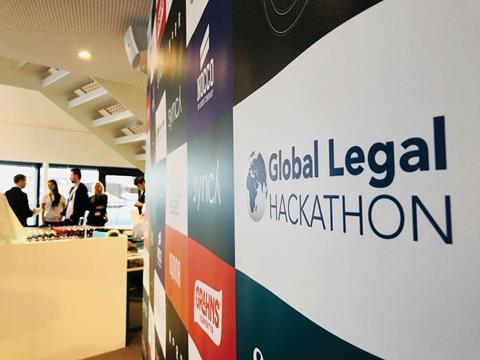 Polly was just pipped to the post because it was not as highly developed as Apella. However, we recognised that it was easier for Team PM to engage their defined stakeholder group, that is the firm's partners, and Polly has potential for a broader impact.
'The original concept – helping the growing tide of litigants in person via a mobile app – was really strong,' said team member Keith Hardie. 'That helped pull together a strong, diverse team to create a compelling solution for a group that are seriously disadvantaged by the legal system. We're getting together again with the aim of taking it forward because there is a real need for something like this to extend access to justice.'
The other teams were RegChain, which created a GDPR solution for small enterprises; Legalytics, which built an AI-powered practice management system; smartcomms.ai – the Vodafone team – which produced an AI-powered email management system (which we all kind of wanted); and LexisNexis, which built a blockchain for conveyancing. All these were great ideas, but they were less complete than the winning applications.
Team PM will compete in round two on 11-12 March. The final round and announcement of global winners will take place in New York on 21 April.
An opportunity to explore and experiment
The GLH was not about emerging technology or AI/blockchain hype, or about developing business for vendors or consultants, and we were not judging whether teams were using the 'right' or 'wrong' platform. Rather it was an exercise in bricolage (see tinyurl.com/yanpf9lg).
'Many successful solutions have emerged from the recombination of other innovations, and hackathons are a great opportunity to explore technologies in a risk-free environment. That was our goal – to have fun and play,' Conetta said.
I agree that there is no right or wrong platform for innovation. The GLH brought together a diverse group of people who care enough about making a difference to participate (as team members, mentors, hosts, organisers and judges – and observers) in a friendly hackathon to develop new ways of improving legal service operations and access to justice.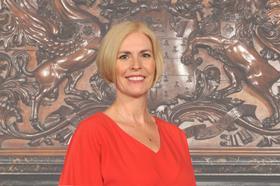 The last word goes to Christina Blacklaws (pictured), who presided over our 'judgely huddle', which involved discussing how we had individually scored teams on their research and development process, selection and application of technology, technical skills, commercial viability of the final product and presentation quality.
'It was a great privilege to be on the judging team for the London Global Legal Hackathon,' she said. 'I think I can speak for my fellow judges to say that we were mightily impressed with the calibre of the entrants – they didn't make our job easy! As incoming president of the Law Society, I am certain that law firms and legal businesses need to embrace innovative technological solutions. Legal hackathons provide an excellent opportunity for creative ideas to be developed and considered.'