The Law Society has said it is confident its latest advertising campaign will be given the all-clear by regulators.
The Advertising Standards Authority today confirmed that five complaints have been made about the Society's 'Don't Get Mugged' campaign, which has been running through the summer.
The campaign features a poster of a bruised accident victim, and urges the public to seek out legal representation after an accident rather than settling for their insurer's first offer.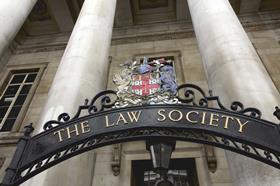 The insurance industry and the Forum of Insurance Lawyers have both opposed the adverts in recent weeks, but the Law Society defended them.
'We are not Coca-Cola or Direct Line,' said a spokesman. 'Our marketing budgets are much more limited.
'So, in order to maximise their effectiveness, our adverts need to be eye-catching and memorable.
'We have had a great deal of positive feedback from members about the campaign, and we are confident that the adverts meet all appropriate standards.'
The ASA confirmed that complainants believe the advert is 'defamatory and misleading'.
But the regulator has declined to immediately force its removal, and is likely to wait another week to decide whether the ad has breached any rules.
The £290,000 campaign, which was set to finish this month in any event, comes at a time when insurers are increasingly seeking to settle cases without victims speaking to a solicitor.
The practice of third-party capture by insurance companies was heavily criticised in last week's Commons transport select committee report, which said it was likely to encourage fraud or exaggeration.