A High Court judge has praised lawyers representing parents fighting to keep their eight-month old baby, who suffers from a rare genetic condition, alive for acting pro bono.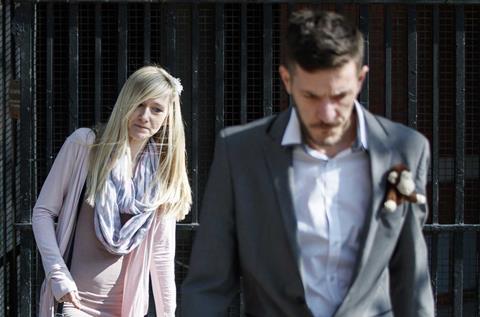 Mr Justice Francis today ruled that Great Ormond Street Hospital can lawfully withdraw all treatment save for palliative care to permit Charlie Gard, who suffers from a rare genetic condition - mitochondrial depletion syndrome - and has brain damage, to die with dignity.
Charlie's parents, Constance Yates and Chris Gard (pictured), had opposed the orders sought by Great Ormond Street Hospital for Children NHS Foundation Trust.
Francis, in a summary published on the judiciary's website to assist understanding of the court's decision, paid tribute to the lawyers.
He said: 'Plainly, by reason of his age, it is not in issue that Charlie lacks capacity to make decisions regarding his medical treatment. Charlie has been represented throughout this hearing by his guardian and by very experienced counsel.
'The parents have been represented by experienced and dedicated solicitors and counsel who have acted pro bono and I wish publicly to pay tribute to them for their excellent assistance to the court and, I am sure, to their clients.
'[Great Ormond Street Hospital] has been represented throughout by very experienced leading counsel.'
London firm Bindmans, whose public law and human rights solicitor Laura Hobey-Hamsher is acting for the parents, said Yates and Gard want to look carefully at the reasons behind the court's decision and are considering what they can do now.
Hobey-Hamsher said Charlie's parents were devastated by today's decision, which will have the effect of preventing them from taking Charlie to America to receive pioneering treatment.
Francis said some people may ask why the court has any function in the process.
He explained: 'The answer is that, although the parents have parental responsibility, overriding control is vested in the court exercising its independent and objective judgment in the child's best interests.
'The Great Ormond Street Hospital has made an application and it is my duty to rule on it, given that the parents and the hospital cannot agree on the best way forward.'
Hobey-Hamsher said Charlie's parents 'are struggling to understand why the court has not at least given Charlie the chance of treatment in America. The medical evidence is complex, and the treatment offered, potentially groundbreaking'.
She added: 'These are not easy issues, and they remain utterly committed, like any parent, to wanting to do their utmost for their child. Their total dedication and devotion to Charlie has been recognised by all parties concerned, including the judge.'
Francis made his ruling 'with the heaviest of hearts, but with complete conviction for Charlie's best interests'.
Hobey-Hamsher said the High Court had to face one of the most fundamental issues for any court.
She said: 'It has not been easy. Lessons do however need to be learned about how medical professionals face decisions such as this, how they act with sufficient speed, and how they communicate with the families of desperately ill children, such as Charlie.'
Charlie's parents have asked they 'now be allowed some time to consider what they need to do next,' Hobey-Hamsher said. 'Their immediate priority is returning to, and spending time with, Charlie.'