A man and a woman who today lost their Court of Appeal battle for the right to choose to enter a civil partnership are to take the fight to the Supreme Court, their solicitor confirmed.
The Court of Appeal dismissed the appeal of Rebecca Steinfeld and Charles Keidan over an earlier High Court decision refusing them judicial review of the education secretary's decision not to, at this stage, propose any change to the bar on opposite-sex couples entering into a civil partnership.
The couple's solicitor, Louise Whitfield, of London and Bristol firm Deighton Pierce Glynn, confirmed to the Gazette that the firm is preparing an application for permission to appeal to the Supreme Court. The application must be submitted to the Court of Appeal by Friday.
In a post on the firm's website, Steinfeld and Keidan say an appeal to the Supreme Court will cost at least £20,000.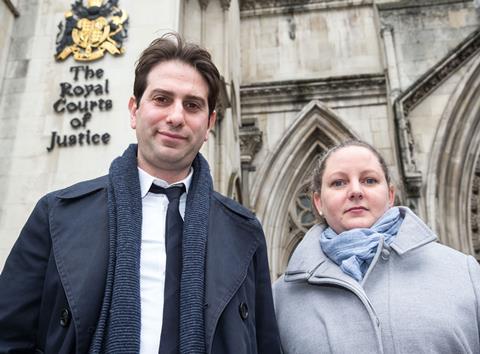 In that post Whitfield said: 'It is very frustrating indeed that my clients lost their appeal by such a narrow margin on such an important issue, particularly when all three judges readily accepted that there had been a potential violation of their human rights. All three also agreed that the time available to the government to address the obvious discrimination Charles and Rebecca face is limited.
'Lady Justice Arden accepted that time had already run out, whilst her fellow judges were unfortunately prepared to allow the government a little more time, and thus the appeal was lost on this issue alone.
'It is therefore clear that the government must act quickly in any event to deal with the discrimination which the court as a whole recognised could not continue indefinitely and which they agreed is ultimately unsustainable.'
A spokesperson for the government said: 'We welcome the court's ruling and are pleased that they have found the government's approach to be lawful. We will carefully consider this judgment and will take it into account as we evaluate the take-up of civil partnerships and same-sex marriage.'
Family solicitors were quick to respond to today's ruling.
Sarah Anticoni, partner at Charles Russell Speechlys, said the case was a 'bold attempt to see how far judges can be pressed to extend law by precedent rather than waiting for parliament to enact something more substantive'.
She added: 'Few expected the Court of Appeal to rule in favour of extending civil partnerships in this way despite thousands of members of the public having petitioned for such a change. While law tends to follow social change, family law in 2017 seems oddly out of kilter with what society has chosen to do.'
In the absence of any new body of law protecting cohabitants' rights on property, finances and children, Anticoni warned that heterosexual couples who do not wish to marry can be left vulnerable.
Nicola Waldman, private client solicitor at London firm Hodge Jones & Allen, said for cohabitees, choosing not to marry means they have far more limited rights relating to joint property and assets in the event of separation or death of a partner, they may not have the ability to make important choices about one another's healthcare, and do not benefit from exemptions relating to inheritance tax and capital gains tax.
Tony Roe, principal of Reading firm Tony Roe Solicitors, told the Gazette earlier this month that the government needed to legislate to protect and give rights to cohabiting unmarried couples - the fastest-growing type of family in the UK according to the Office for National Statistics.
The Civil Partnership Act 2004 (Amendment) Bill 2015, allowing opposite-sex couples to enter a civil partnership, will have its second reading in the House of Commons on 24 March.
Lauren Evans, a family solicitor at London firm Kingsley Napley, said: 'It is imperative now that MPs take up the cause and don't hide behind the government's current open-ended "wait and see" policy. Everyone, be they straight, gay or bisexual, should have the same freedom to choose how to define their relationship.'
Evans added that parliament had a real opportunity with the private member's bill 'to finally put an end to this discrimination'.
Nigel Shepherd, chair of family law group Resolution, said it was understandable that some couples are attracted to a form of registered partnership that is not marriage, but which will give them similar protections.
He added: 'That said, from a purely legal perspective, it makes little sense to retain civil partnership. But, if the option of civil partnerships for same-sex couples is to continue to be retained, then civil partnerships must also be available to opposite-sex couples in order to avoid discrimination. We agree that there is a pressing need for the government to address this issue.'