The latest twist in the personal injury sector's battle with costs recovery specialists has ended in defeat for one claims firm.
Liverpool firm HH Law Limited had sought to overturn the decision of a district judge to slash its success fee and treat an ATE insurance premium as a solicitor's disbursement - after a former client had seen her £3,400 settlement reduced by almost £1,200.
In Herbert v HH Law Limited, Mr Justice Soole (pictured) rejected both grounds of appeal, and refused to inquire further into HH's contention that the retainer of the client's new solicitors was 'tainted by illegality and unenforceable'.
The claimant, Nicky Herbert, was represented by Leeds costs recovery specialist JG Solicitors. JG has already had several cases come to the High Court this year after challenging costs claimed against an individual's damages.
HH said the district judge in the first instance should have insisted on JG and Herbert making witness statements explaining how the firm came to be instructed, amid accusations that clients were cold called.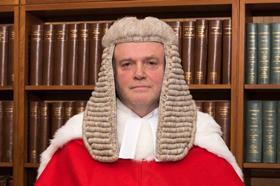 In submissions, James Green of JG Solicitors said the accusations were 'simply untrue' and that his firm's marketing methods were all compliant with SRA rules.
Soole said the district judge had been entitled to tell HH to redirect any complaints to the SRA and he was right to decide it was disproportionate to take the matter any further. 'There is no basis for criticism of the judge's decision on this point, nor therefore of his consequent costs order,' said Soole.
In the claim, Herbert had contended that HH failed to conduct a risk assessment of the level of success fee and that its 100% uplift was out of step.
The firm said that, following civil justice reforms in 2013, it had been necessary to restructure charges to clients to cover overheads and make a profit: it argued the client was fully aware of the charging structure which was expressly set out in her CFA documentation.
The district judge had agreed the burden was on the client to prove charges were unreasonable, but he had noted that solicitors had little or no direct contact with her and there was no formal risk assessment in relation to the success fee.
Soole said the risk assessment was still a 'relevant factor' when considering the success fee percentage, and that the client's informed approval required the agreement to be 'clearly explained' before she entered it. Soole also said the £349 ATE insurance should be paid by HH.