Criminal barristers will decide this weekend whether to accept the government's £15m offer to settle their boycott of new legal aid work - but some solicitors fear the money will be recouped from their fees.
A ballot organised by the Criminal Bar Association (CBA), which represents most criminal barristers, opened yesterday and is due to close on Monday. A result is expected by Tuesday.
If the proposals are rejected it is likely that a policy of 'no returns', which has been suspended until 12 June, will immediately take effect, potentially throwing the court system into chaos.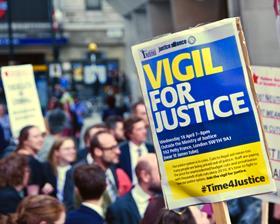 The CBA's executive committee is not taking an official line but each chamber attached to the association has individually polled all of its members who do criminal work - both CBA members and not. Around 3,500 of the CBA's 4,000 members are currently in practice.
The CBA is posting blogs from members outlining their own views on the vote. So far four blogs have been posted, two in favour of accepting the government's proposal and two in favour of rejecting it. Anonymous blogger the Secret Barrister is also hosting blogs on their website.
More than 100 chambers have been refusing to take on new legal aid work since 1 April in protest at what they say are continuing cuts to legal aid fees under the advocates' graduated fee scheme (AGFS).
The Ministry of Justice (MoJ) offer, which is understood to be final, is:
An extra £8m for fraud, drug and child sex cases that lose out under the new fee scheme;
A 1% increase in advocacy payments from April 2019 (£2.5m);
Further funding of approximately £4.5m, more for juniors.
The CBA says it has been told that the £15m is new money from the Treasury. However, solicitor Greg Powell, president of the London Criminal Courts Solicitors' Association, says 'given the historical record we can expect MoJ to recoup any AGFS concession from solicitors'.
Meanwhile the Law Society has confirmed it will be arguing its case against the government's reforms to the litigators' graduated fee scheme (LGFS) on 17 and 18 July in the High Court.
Richard Miller, the Society's head of justice, says in his witness statement that the new arrangements mean that necessary work is unpaid. He also claims the analysis claiming that a 2014 costs decision, R v Napper, which resulted in increased costs under the LGFS scheme, is flawed. The MoJ was also required to review market sustainability before deciding to make cuts, he adds.
Law Society president Joe Egan said: 'Twenty years of cuts have placed immense pressure on the criminal justice system and those who work hard to ensure the rule of law is upheld. We've reached the point where it is not just lawyers, but the media and the wider public who realise we will all be poorer if confidence in our criminal justice system is diminished further.
'The continued scepticism about the government offer in respect of the AGFS demonstrates how crucial it is for the MoJ to recognise the need for proper funding of the criminal justice system. Whatever the outcome of the vote next week, there is an urgent need for an independent review of the sustainability of criminal legal aid work for the entire legal profession.'