The Crown Prosecution Service is working with six police forces to reexamine their hate crime cases to see if the correct decisions were taken following a significant drop in referrals, the director of public prosecutions has revealed.
Alison Saunders told the House of Commons home affairs committee yesterday that prosecution and conviction rates 'on the face of it are absolutely too low'. According to the CPS's 2016/17 hate crime report, the overall volume of prosecutions fell from 15,442 in the previous year to 14,480. Police referrals increased by 0.7% following a 9.6% drop over the previous two years.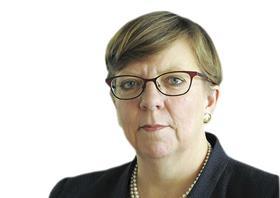 Saunders told MPs that referrals for disability hate crimes have risen. However, referral numbers for racially aggravated offences have dropped; referral numbers for religiously aggravated offences have fluctuated. The CPS and police project will conclude in the next few weeks, Saunders said.
Meanwhile, the DPP urged caution on prosecuting cases involving social media communications. CPS guidance issued last year states that millions of communications are sent by social media and that the application of section 1 of the Malicious Communications Act 1988 and section 127 of the Communications Act 2003 to such comments creates the potential for many cases to come to court. The guidance states that 'there is the potential for a chilling effect on free speech'. Prosecutors are advised to 'exercise considerable caution' before bringing charges.
However, Stephen Doughty, Labour MP for Cardiff South and Penarth, questioned whether the guidance strikes the correct balance. He said: 'There's quite a chilling effect on the other side for those particularly in public life - whether it's MPs, journalists, others in positions of public authority - that the types of threats we're receiving on a daily and weekly basis, and often the lack of action that can or is taken in those cases, is extremely worrying. It wouldn't surprise you that there are people in here and others who are considering giving it up purely on the basis of those sorts of threats.'
Saunders acknowledged Doughty's concerns but told the committee that prosecution does not necessarily always change people's behaviour. 'There is something about education and awareness - because people feel somehow you can do something on Twitter, post it out before you have even thought about it. People feel somehow they're anonymous, they're immune, it's a space where they can say things which they wouldn't ordinarily say to your face or in a roomful of people,' she said.
Saunders suggested greater awareness is needed about hate crime and making people more conscious of their actions. 'That's where we have to be really careful not to react into "all of this needs to be prosecuted and therefore we need to change the balance with free speech". That is one of the cornerstones of our democracy. People shouldn't abuse it but equally we do need to protect free speech as well,' she cautioned.