A dispute between the government and the criminal bar over legal aid fees appears deadlocked, after the lord chancellor said he was disappointed by the action being taken by advocates and declared that disruption to the courts is 'unacceptable'.
Criminal barristers have been declining to take on work with a representation order dated from 1 April in protest against reforms to the advocates' graduated fee scheme (AGFS). The Criminal Bar Association has advised its 4,000 members to adopt a 'no returns' policy from tomorrow.
In a letter to Bob Neill, chair of the Commons justice select committee, David Gauke said he greatly valued criminal advocates' work. However, 'given how closely we have worked with the profession in designing the new fee scheme, it is disappointing that the CBA has encouraged its members to take this action. Any action to disrupt the courts is unacceptable and we are taking all necessary steps to ensure legal representation is available for defendants in criminal cases'.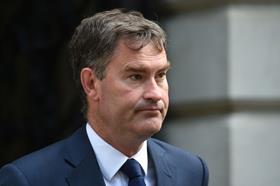 Gauke said his department agreed to work with the bar to develop a reformed AGFS scheme in 2015. After concerns emerged during the consultation process, the ministry made 'significant changes' to the scheme, including allocating an additional £9m per annum. A 'financial risk' linked to the new scheme is likely to lead to another £9m being spent a year, Gauke said, pointing out that no fees were reduced following the consultation.
Gauke said: 'While development of the scheme took over two years, the same representative groups remained involved. Given the lengthy and substantial close working between my officials and advocates, I am disappointed by the CBA's current stance.'
Acknowledging the need for 'continued, constructive engagement', Gauke said justice minister Lucy Frazer and officials have been meeting bar leaders and chambers. The ministry has also committed to a 'full appraisal' of the reforms by April 2020.
Earlier this week, the committee heard the pressure that solicitors are coming under as a result of the bar boycott, which may push them into taking their own action.
Richard Miller, the Law Society's head of justice, told the committee that it would not be so much solicitors taking 'strike' action. 'It's more making an economic decision that this work is simply not economically viable and the professional decision [that] "I'm not going to take on a case if I'm going to be put under severe pressure by a court to undertake work I don't feel professionally competent to do",' he said.
The justice secretary said little in his letter about the litigators' graduated fee scheme, other than that it had been amended to address an increase in solicitors' legal aid fees in the top 2% of Crown court cases after a costs judge decision expanded the definition of pages of prosecution evidence.
Miller told the committee that the new LGFS scheme leaves necessary work 'completely unremunerated' and called for an independent evaluation 'of what it takes to be economically viable to do this work'.