Lawyers have become used to running the gauntlet of the Denton test for relief from sanctions – but now the yardstick for out-of-time applications has resulted in a litigant staying behind bars.
In Lakatamia v Su, Lord Justice Lewison, sitting in the Court of Appeal, ruled that a four-month delay in filing notice to appeal had failed the three-stage Denton test for assessing non-compliance and relief from sanctions.
The ruling was also notable for the judge's assertion that Su, who remains in custody, should not be treated more leniently because he was acting as a litigant in person.
The court heard that the deadline after Su's committal to file a notice to appeal was 19 April; the notice was eventually filed on 27 August.
The appellant, who according to the judgment remains in custody, accepted the delay in filing his notice was a serious and significant breach – effectively passing the first two Denton stages for being denied relief – and the court rejected his attempts to excuse his lateness.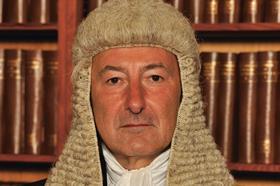 He submitted he had disinstructed his previous lawyers and correspondence was conducted on his behalf by a McKenzie friend. In response, Lewison LJ pointed out had R (Hysaj) v Secretary of State for the Home Department had established that the absence of legal representation was not a good reason for delay, and that litigants in person were required to comply with rules just as a legally represented party would be.
The judge also rejected Su's submission that he did not have access to the £1,199 for the court fee.
Su had been made subject to a committal order by Sir Michael Burton, sitting as a High Court judge, in March, for multiple breaches of freezing orders, orders requiring disclosure of assets and orders requiring him not to leave the jurisdiction.
Lewison LJ said it was not incompatible with the European Convention on Human Rights to impose time limits even in the case of criminal convictions. The judge had found as fact that Su had a beneficial interest in properties which he failed to disclose, and that he had attempted to flee the jurisdiction.
On consideration of the circumstances of the case – the third element of the Denton test – the court ruled the grounds of appeal were 'extremely weak' and therefore not strong enough to prevent court-enforced sanctions. The judge refused the application to extend time, a decision agreed by his judicial colleague Lady Justice Asplin.