The judge guiding policy on fixed recoverable costs today revealed his scepticism that they can apply to higher-value clinical negligence cases.
Lord Justice Jackson told the Association of Personal Injury Lawyers conference there were 'considerable difficulties' in applying a fixed costs regime to multi-track claims valued more than £25,000.
Jackson is conducting a wide-ranging review into fixed costs across all civil claims and has previously appeared to support a blanket threshold of £250,000.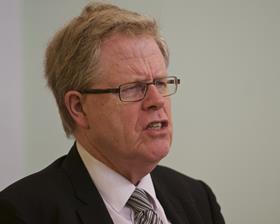 He appears to have changed this view with regards to medical negligence claims, although he noted fixed costs could be possible if causation and liability were admitted.
In any case, the Department of Health has consulted on applying fixed costs for claims up to £25,000, with the review finishing earlier this month and left in the to-do list for the incoming government.
Despite reservations about higher-value clinical negligence claims, Jackson reiterated his support for the principle of fixed costs, which he first recommended in his civil justice review along with other proposals that were largely enacted through the Legal Aid, Sentencing and Punishment of Offenders Act.
'I recommended that when the first had bedded in we would need to look again at the question of introducing fixed recoverable costs in the lower regions of the multi-track,' he said. 'These reforms have now been in place for just over four years. There were teething problems which have been dealt with, costs management is now working much better, so after four years the time has come to look again.'
Following Jackson's speech, two members of the judiciary used the platform to urge lawyers to improve their approach to costs budgeting.
This week, defendant firm Kennedys was criticised for a costs estimate that was considered to be of 'no utility'. Master Roberts, from the Queen's Bench Division, said parties are still failing to focus on what specific costs they are presenting.
Roberts said: 'Still I ask defendants [for their costs estimate] and they say "Well I don't know how many witnesses we have". That information should be before the court. We still see grossly under-estimated [budgets which are] therefore misleading.'
District Judge Ian Besford, from the north east circuit, said too many solicitors are 'sitting in a dark room without knowing what is happening' when it comes to costs.
'Unless you know where you are [there is] a serious risk of running cases that are not profitable.'