MPs holding the government to account on legal matters have published the extent of their 'unfinished business' - which includes an inquiry into whiplash claims and the small claims limit.
The House of Commons justice select committee, which, although technically still in existence, has no members following yesterday's prorogation of parliament, said it hopes the programme will be picked up by its successor after the 8 June general election.
The committee said that parliament's decision to call an early election had brought its busy programme 'to an abrupt conclusion'. It had 'a number of inquiries in progress at various stages' and 'preparations were well under way for holding specific evidence sessions or making visits in connection with inquiries or other work'.
To scrutinise the Prisons and Courts Bill, the committee had sought submissions on issues including: the definition of whiplash injuries and the prevalence of claims; whether or not fraudulent whiplash claims represent a significant problem; the impact of raising the small claims limit taking into account a planned move towards online court procedures; and the role of claims management companies in these matters.
It received 80 submissions. 'We anticipate that this body of evidence would facilitate the task of our successor committee should it decide to conduct an inquiry into this topic,' it said.
The committee received more than 40 pieces of written evidence on the system governing the disclosure of criminal records in relation to offences committeed by people when they were under 18. It had held an oral evidence session in March with justice minister Dr Phillip Lee and Christian Papaleontiou, head of the public protection unit at the Home Office.
Arrangements had begun to hold several one-off evidence sessions in the next six months. The committee suggested its successor may wish to resurrect 'any or all' of its plans, which would have included the work of Cafcass (Children and Family Court Advisory and Support Service) and the Parole Board.
The committee would have heard from the prisons and probations minister on what action the government has taken in response to the committee's report on the treatment of young adults in the justice system.
It would have held an evidence session with the secretary of state of justice 'to consider developments across the full range of her responsibilties' and a valedictory oral evidence session with the lord chief justice, Lord Thomas of Cwmgiedd, before his retirement in the autumn.
MPs had also requested information from the government on delays in immigration and asylum tribunals, and on their plans to produce a post-legislative assessment memo in the period up to the end of 2018.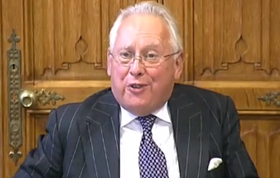 Signing off as committee chair, Conservative Bob Neill (pictured) said: 'We hope this brief report will be of interest to our stakeholders and the wider public, as well as to our successor commmittee in the next parliament, in setting out what plans we had before our work was interrupted by the general election.
'It will be for the new justice committee in the next parliament to decide whether to pick up where we have left off on our inquiries and other work on matters such as prison reform, disclosure of young people's criminal records, Transforming Rehabilitation, and personal injury claims.'