Families living below the poverty line are being denied vital legal help, according to research commissioned by the Law Society and published today. Chancery Lane is urging the Ministry of Justice to restore the means test to 2010 'real terms' levels.
According to today's report by Loughborough University, Priced out of justice? Means testing legal aid and making ends meet, at the maximum level of disposable income at which legal aid is allowed, households have too little income to reach a minimum standard of living before footing any legal bills. Typically, they have disposable incomes 10% to 30% too low to afford a minimum budget. Families below the disposable income limit, while eligible for legal aid, are required to contribute to legal costs, unless their income is extremely low.
The government's legal aid means test considers gross and disposable incomes and capital.
Individuals with a gross income above the £2,657 monthly limit could generally afford to contribute substantially to legal costs. However, the report says gross income includes tax credits and benefits, which contribute to supporting additional family members.
The monthly £733 disposable income limit is a more stringent threshold, the report says, excluding people from all types of household at incomes that put them below the Minimum Income Standard. Those on the lowest incomes who are eligible for legal aid are excluded if they have savings or assets worth over £8,000 or, in some cases, £3,000. The means test also considers the value of people's homes.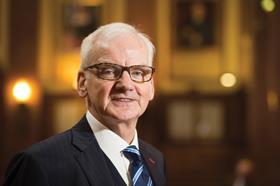 Joe Egan, Society president, said: 'No one in modern society should have to choose between accessing the justice system and a minimum living standard. The financial eligibility test for civil legal aid is disqualifying people from receiving badly needed legal advice and representation even though they are already below the poverty line.'
Chancery Lane is also urging the ministry to exempt people on means-tested benefits from capital assessment.
The report's author, Professor Donald Hirsch of Loughborough University, said: 'Those who are out of work are generally covered by legal aid but may be excluded if they own their homes. The assumption that someone could sell their home to cover a legal bill is out of line with other forms of state means-testing - such as help with care costs, where the value of your home is ignored if you or your partner still live in it.'
A Ministry of Justice spokesperson said: 'Maintaining access to justice remains at the heart of our legal aid system, and last year we spent over £1.6bn to ensure help is available for those who need it most. We are conducting a wider review of our legal aid reforms, including provisions in civil cases. We also want to see disputes resolved away from court wherever possible, using approaches like mediation which can be less stressful, quicker and cheaper.'
The ministry points out that reforms under the Legal Aid, Sentencing and Punishment of Offenders Act 2012 did not significantly change the means test. Those who can afford or are able to contribute towards their legal costs should continue to do so, the ministry maintains.