The time has come to end the divorce blame game, the head of a family law group has told politicians, urging them to allow couples to officially part ways amicably.
In a letter to the major political parties ahead of next month's general election, Nigel Shepherd, chair of Resolution, urges them to commit to no-fault divorce in their manifestos.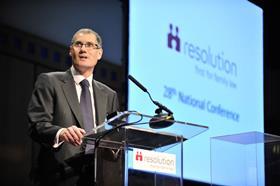 According to research conducted by Resolution, nine in ten practitioners believe divorce law needs to be modernised to allow for no-fault divorce. A YouGov poll conducted in February shows that almost seven in ten people agree that no-fault divorce should be available.
Shepherd says current legislation does not encourage couples to divorce amicably. 'People often have to cite unreasonable behaviour or adultery on the divorce petition. This leads to unnecessary conflict, makes an amicable separation less likely, and reduces the chances of reaching agreement on children and financial issues,' he adds.
Shepherd cites the recent Owens v Owens case to illustrate why reform is urgently needed. 'It is simply wrong that in 2017 anyone can be forced to remain in a marriage that they no longer wish to be in,' he says.
Politicians are reminded that no-fault divorce has been legislated before, in the Family Law Act 1996. Scotland, Australia, several US states, the Netherlands, Spain and Sweden have divorce without blame.
Resolution proposes that the parties adopt a policy that would enable a divorce to be finalised where one or both parties to a marriage give notice that their marriage has broken down irretrievably, and one or both of them remain of that view after six months. Separating couples would be supported by information to help them explore their options.
The parties are also urged to commit to providing legal rights for cohabiting couples, who represent nearly 10% of the UK population.
Resolution proposes a legal framework of rights and responsibilities when unmarried couples who live together split up. This would also secure 'fair outcomes' when couples separate or one partner dies.
Cohabitants who meet certain eligibility criteria indicating a committed relationship would have a right to apply for certain financial orders if they separate. This right would be automatic unless the couple chooses to 'opt out'.
Ensuring fair access to the legal system, Resolution believes funding should be provided for free initial advice for people of limited means, to help them identify their options on separation and divorce, helping them to put the needs of any children first, and ensure they are better informed at the start of the process.
Shepherd also calls for greater clarity over the legal status of pre- and post-nuptial agreements, which are currently not enforceable in courts in England and Wales.