Family Division president Sir James Munby, who has long argued for allowing the 'glare of publicity' in to family courts, says some cases should not be debated under the public gaze, as he denied a mother the chance to take her case to the 'court of public opinion'.
The mother, in In the matter of G (a child), wanted Munby to remove what she called a 'gagging order' over private law proceedings in 2002 in relation to her daughter. Mr Justice Singer ordered that the girl should live with her father and have 'very limited' indirect contact with the mother. The parents agreed not to speak to the media.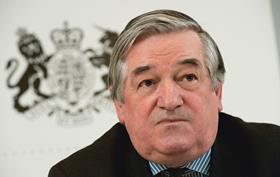 In October 2016, Munby permitted one of the girl's older half-brothers to have copies of Singer's judgment and three experts' reports. The sibling now wanted to access all the files in the proceedings 'to understand his family's history'.
Handing down judgment last month, Munby permitted the brother to have copies of two further experts' reports, and statements from the parents and four other people. However, he concluded that the mother should not be released from the undertaking she gave to Singer.
The mother wanted her children and other families to be able 'to make up their own minds' about her by 'reading the whole story', the judgment states. 'She also says, however, that she wants to use the documents "to show to a reputable broadcaster... to corroborate [her] assertions of a miscarriage of justice", adding that because there is now no chance of having her case heard and tested in a court, she wishes to "take my case to the court of public opinion".'
However, Munby said there were some cases, including the one before him, 'where the proper forum for exploring and debating such issues is within the privacy of the family rather than under the public gaze'. He added that he would make clear in his order that there can be no objection to the mother speaking to the half-brothers about the proceedings and giving her side of the story.
Munby said the case raised 'novel' points because Singer delivered his judgment at a time when approaches to transparency were 'very different from what they are today'. In 2002, the general assumption was that only judgments perceived as having some legal interest to the profession would be published. 'Nowadays, there is a wider understanding that, because the general public has an interest in knowing what the family courts are doing, day in and day out, publication of judgments is no longer confined to those of only legal interest,' Munby said.
Bailii, a legal information website, published eight first-instance family judgments in 2002. Last year it published 336.