Specialist courts dealing with the financial aspect of divorce proceedings are to be piloted early next year as part of wider efforts to separate divorce administratively from its financial consequences.
Six months after declaring that the time had come to 'de-link' divorce and money, Sir James Munby, president of the family division, is proposing to pilot a financial remedies court 'concept' in London, the West Midlands and south-east Wales in February. Further pilots are expected to follow.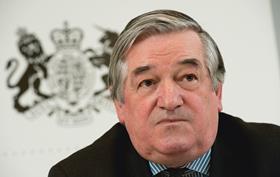 Setting out the blueprint on Friday, Munby said the basic concept of the specialist courts builds on the family court and Court of Protection models. Each circuit will typically have two regional hubs, headed by a lead judge expert in financial remedy work. Mr Justice Mostyn, a High Court judge, has agreeed to be the national lead judge; His Honour Judge Edward Hess, a circuit judge, will be deputy lead judge.
Hearings will be conducted at the regional hubs and some financial remedies hearing centres within the hub area. 'Ticketed judges' will initially deal with ancillary relief cases. The work will eventually extend to all financial remedy cases dealt with in the family court or family division. District and circuit judges who currently do financial remedy work will be 'grandfathered' in.
The courts will function separately from the regional divorce centres. They will initially handle paper files. However, HM Courts & Tribunals Service 'is already working on...a fully digitised model'. Munby says 'local discussions' are underway to decide where to locate the hubs and hearing centres, and who the lead judges will be.
Ahead of his retirement next year, Munby appears to be on track with his timetable to completely de-link divorce and money, which he outlined in a judicial update in May.
The following month he revealed that financial proceedings would be administratively de-linked from divorce proceedings across courts nationally from June following a successful pilot at the south west regional divorce centre in Southampton. Munby said the plot achieved its aim of introducing a more streamlined process, cutting by up to two weeks the delays experienced by court users as files are transferred between courts.
Judicial involvement in a divorce process is limited. In contrast, judicial involvement in money claims is significant. Concentrating divorce cases in a limited number of regional divorce centres, as a prelude to a completely online system, is putting the administration of ancillary relief under 'unnecessary and avoidable strains', Munby has previously argued.