A Court of Appeal ruling barring the publication of allegations that a 'leading businessman' sexually harassed and racially abused employees has re-ignited the debate over the use of non-disclosure agreements (NDAs) in settlements. In ABC and others v Telegraph Media Group, Sir Terence Etherton, Lord Justice Underhill and Lord Justice Henderson granted an interim injunction preventing the Telegraph from publishing what the newspaper says is the result of eight months of investigation into the behaviour of an individual identified as 'ABC'.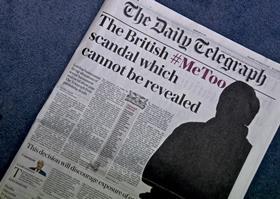 The appeal overturns a ruling in August by Mr Justice Haddon-Cave refusing an injunction following an in camera High Court hearing.
The case concerns allegations from five employees of a senior executive's 'discreditable conduct' which led to settlement agreements. According to the Court of Appeal judgment, the agreements included undertakings to keep secret the subject matter of the complaints 'and various associated matters, including the amounts paid by way of settlement'. They safeguarded the complainants' rights to report any criminal offences.
The judgment states: 'There is no evidence that any of the settlement agreements were procured by bullying, harassment or undue pressure by the claimants', and that each employee received independent legal advice. It notes that NDAs play an 'important and legitimate' role in the consensual settlement of disputes.
Writing in today's Telegraph, veteran free speech campaigner Geoffrey Robertson QC claims: 'Commercial lawyers who later become judges may have an instinctive preference for freedom of contract over freedom of speech, as if asked to balance hard cash against hot air. Thus free speech becomes expensive speech.'
James Price QC and Chloe Strong, instructed by Schillings International, appeared for ABC; Desmond Browne QC and Jonathan Price, instructed by Gordon Dadds, for the Telegraph.