The departing president of the Supreme Court has used his farewell speech to urge the government to support judges and respect the UK's legal system.
Lord Neuberger said the authority of the judiciary and the rule of law are at risk if ministers and parliamentarians do not provide appropriate support to judges in both 'words and means'.
Neuberger was speaking at his Supreme Court valedictory on Friday. The occasion marked his final sitting in the court. Another Supreme Court justice, Lord Clarke also had his valedictory on the same day.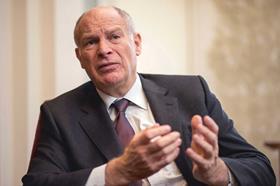 Lord Neuberger was made a QC in 1987 and appointed Lord Justice of Appeal in 2004. On 1 October 2009 he became Master of the Rolls before being appointed President of the Supreme Court in 2012. Clarke spent 27 years at the bar specialising in maritime and commercial law and was appointed Master of the Rolls and Head of Civil Justice in 2005.
Neuberger added: 'The rule of law is fundamental to any civilised society, and that is never more true than in challenging times. And both an independent, respected, and effective judiciary and access to the courts for citizens are fundamental to the rule of law.
'It would be a serious error to see the economic benefits as the only purpose of our legal system. And it would be a serious error to take the high quality of our judiciary for granted.'
He added the remarkable extent to which the UK is 'probably the world's legal centre' is attributable to the high quality of judges, barristers and solicitors.
In an allusion to the infamous headlines in the press following the Supreme Court's judgment in the Article 50 case Neuberger added: 'Misconceived attacks on judges undermine both the rule of law domestically and the international reputation of the legal system, with its consequential financial benefits to the country. The rule of law requires respect for judges – but it is not respect for us as individuals: it is respect for us as judges.'
Lady Hale will become the next president of the Supreme Court from October who Neuberger said is an 'impressive colleague and inspiration' who will make an outstanding president.
Neuberger said the court, under Hale's presidency, will sit in both Belfast and Cardiff. It already heard a case in Edinburgh earlier this year as part of its aim to allow more people to see how the court works.