Many employers think it is reasonable to ask female job applicants if they plan to have children, figures published by the Equality and Human Rights Commission suggest. The commission says many employers need more support to understand the basics of discrimination law.
The commission, a non-departmental public body, surveyed 1,106 senior decision-makers in business. Over a third (36%) think it is reasonable to ask female job applicants about their future plans to have children. Six in 10 employers think a woman should disclose if she is pregnant during the recruitment process. Almost half (46%) think it is reasonable to ask female candidates if they have young children. Nearly half (44%) of respondents think women should work for an organisation for at least a year before deciding to have children. Around a third believe that women who become pregnant and new mothers are generally less interested in career progression than others in the company.
Rebecca Hilsenrath, the commission's chief executive, said the findings represent a 'depressing reality that, when it comes to the rights of pregnant women and new mothers in the workplace, we are still living in the dark ages. We should all know very well that it is against the law not to appoint a woman because she is pregnant or might become pregnant. Yet we also know that women routinely get asked questions around family planning in interviews'.
She added: 'It's clear that many employers need more support to better understand the basics of discrimination law and the rights of pregnant women and new mothers.'
The commission is urging organisations to join its Working Forward campaign to support pregnant women and new parents in the workplace.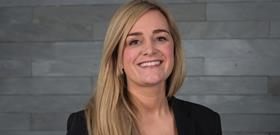 Danielle Ayres, pregnancy and maternity discrimination solicitor at Stockport firm Gorvins Solicitors, said today's statistics are 'hugely disappointing but unsurprising'.
Thousands of businesses risk discrimination claims because of their views, she added. 'There are so many benefits of employing mums, not least due to the experiences they gain whilst they are on maternity leave being invaluable,' she said, highlighting parents' abilities to prioritise, manage time effectively and plan for every eventuality as examples.
A report published by the Law Society of Scotland in 2015 suggested that women solicitors were being denied promotions because they might become pregnant.
The report said: 'Evidence of females being denied promotions or alternative jobs because of an expectation that they may get pregnant in the future was uncovered. There was also concern and/or reluctance expressed by some for firms/organisations to allow teams or the number of partners to become too heavily reliant on females due to the expectation that they will take maternity leave.'
Ayres said new mothers are more likely to be more dedicated and loyal if employers provide greater flexibility and work/life balance support. 'It will almost certainly increase their morale and many working mums I speak to say they often squeeze five days' worth of work in to three,' she added.