The two arms of the legal profession have joined widespread international condemnation of new laws that would give the government of Poland powers to hand-pick judges. The country's ruling Law and Justice Party is attempting to pass laws which would require all supreme court judges to resign apart from those approved by the executive and give the government control over judicial appointments.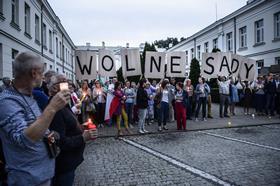 Law Society president Joe Egan said that an independent judiciary is a fundamental element of a nation rooted in the rule of law. 'Eroding the independence of the legal profession - whether judges or lawyers - undermines the rule of law which protects and holds every single citizen accountable, from the most powerful to the most vulnerable. The consequences are likely to be a society that becomes less safe, less stable and less fair.'
Andrew Langdon, chair of the bar, said he had written to the Polish president, calling on him to veto the legislation. 'It is for good reason that strong, democratic nation states no longer allow their ruling parties directly to influence the selection of judges,' he said. 'When the judiciary is beholden to the ruling party of government, there is no longer a separation of powers, and the democratic system of checks and balances on which the rule of law is based, fails.'
In a reference to Poland's suffering under communism and fascism, he said the proposals 'echo eerily of a more turbulent European past'.
He added: 'We stand shoulder to shoulder with our colleagues at the Polish bar who are fighting, as all self-respecting lawyers should, to defend the rule of law, the constitution and the rights and freedoms of Polish citizens.'