A commission to 'improve the efficiency and effectiveness of the criminal justice process' is among the measures announced in Boris Johnson's second parliamentary programme. As expected, today's Queen's speech includes the establishment of a 'Constitution, democracy and rights commission', promised in the Conservatives' election manifesto.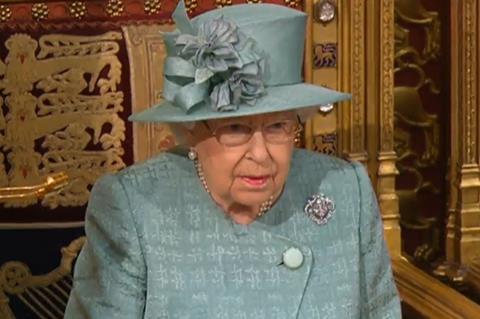 The government will also 'bring forward proposals to deal with vexatious claims that undermine our armed forces.'
The speech states: 'My government is committed to a fair justice system that keeps people safe. My ministers will establish a Royal Commission to review and improve the efficiency and effectiveness of the criminal justice process.
'New sentencing laws will ensure the most serious violent offenders, including terrorists, serve longer in custody. New laws will require schools, police, councils and health authorities to work together to prevent serious crime.
'My government will ensure those charged with knife possession face swift justice and that the courts work better for all those who engage with them, including victims of domestic abuse. Legislation will be brought forward to support victims of crime and their families. Measures will be developed to tackle hostile activity conducted by foreign states.'
A 'sanctions regime to directly address human rights abuse,' was also announced.
The last Royal Commission on criminal justice reported in 1993.
Although not mentioned in the speech, the government announced that a Divorce, Dissolution and Separation Bill will 'remove unnecessary conflict during the divorce process... while ensuring that divorce remains a carefully considered decision.'
It will also re-introduce the Domestic Abuse Bill, which fell in September. It will prohibit perpetrators of abuse from cross-examining their victims in person in the family courts.
The speech made no direct reference to reforms of the appointment process for Supreme Court judges, which is expected to be on the new commission's agenda. The commission will be asked 'to consider the relationship between government, parliament and the courts and to explore whether the checks and balances in our constitution are working for everyone,' the government said. In her valedictory speech yesterday, Lady Hale, outgoing president of the Supreme Court, warned against submitting judicial appointments to political oversight.
Responding to the government's plans set out in today's Queen's speech, chair of the Bar Council Richard Atkins QC said:
'The Bar Council is obviously supportive of anything which delivers a fairer system of justice. This however comes at a price. For too long justice has been ignored and its budget cut. If the broken justice system is to be repaired it will need significant investment. The Bar Council will of course engage with any Royal Commission on improving the efficiency and effectiveness of the criminal justice process, but will be watching closely to ensure that this is not simply a way of booting what urgently needs doing into the long grass.'