Tributes are being paid to eminent public and administrative law silk Sir Louis Blom-Cooper, who has died aged 92.
The Doughty Street chambers QC, called to the bar in 1952, was chair of the Mental Health Act Commission from 1987 to 1994, a judge in the Court of Appeal of Jersey and of Guernsey from 1988 to 1996, and has been a bencher of the Middle Temple since 1978.
Blom-Cooper chaired many public inquiries, including the Jasmine Beckford and Ashworth Inquiries.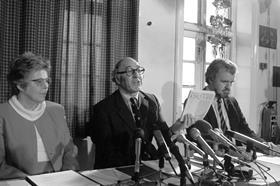 Sir Keir Starmer QC, shadow secretary of state for exiting the European Union, tweeted: 'The passing away last night of my friend & @DoughtyStreet colleague, Louis Blom-Cooper, is truly sad news. An unwavering advocate of justice, fiercely independent & great company.'
Blom-Cooper gave evidence on the nature of public enquiries to the High Court in the Harold Shipman Inquiry. A prolific author, he published a book on the subject last year: 'Public Inquiries: Wrong Route on Bloody Sunday'.
Blom-Cooper sat as a deputy High Court judge sitting on housing and judicial review cases until 1996. In 1992 he was appointed the first Independent Commissioner for the Holding Centres in Northern Ireland. He was chairman of the Press Council, a predecessor the Press Complaints Commission (also now defunct) from 1988 to 1990.
Solicitor Mark Harvey, head of specialist personal injury at Hugh James in Wales, tweeted: 'Recall Mr Blom-Cooper being brought into a case by a colleague for the Court of Appeal. I asked why and he said every Sunday he lunched with the then Master of the Rolls! Polished advocate; very sorry to hear of his passing.'
In a tribute to Blom-Cooper published on his 90th birthday in 2016, Doughty Street noted that he was at the forefront of the campaign for the abolition of the death penalty in 1965. The chambers added: 'It was he who first challenged the mandatory death penalty throughout the Commonwealth, raising arguments decades before they came to be accepted by the Privy Council.
'He was an inspirational figure in the Howard League for Penal reform, spearheading many of its campaigns. He fought for the rights of prisoners and won landmark cases such as Raymond v Honey which opened up the present system to judicial review; his influence throughout administrative law was pervasive. Most of all he was a prophet of future developments throughout his life. It was he who argued for the application of the principles of natural justice in the field of immigration, prisons disciplinary proceedings and local government decision making long before these principles became clearly established. He was a great scholar of the law.'