The government's legal aid reforms have deprived poor and disabled people of their human rights to remedy, a UN envoy has said, accusing the government of remaining 'determinedly' in a state of denial about those living in poverty.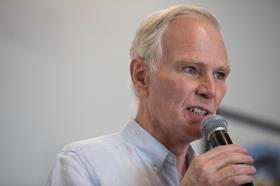 Professor Philip Alston, special rapporteur on extreme poverty and human rights, travelled across England, Wales, Scotland and Northern Ireland to prepare his report.
In a statement on his visit, Alston said there had been dramatic reductions in legal aid availability in England and Wales since 2012, which have 'overwhelmingly affected the poor and people with disabilities, many of whom cannot otherwise afford to challenge benefit denials or reductions and are thus effectively deprived of their human rights to a remedy'.
He said the Legal Aid, Sentencing and Punishment of Offenders Act 'gutted the scope of cases that are handled, ratcheted up the level of means-tested eligibility criteria, and substituted telephonic for many previously face-to-face advice services'.
Alston concluded that the experience of the UK, especially since 2010, underscored the conclusion that poverty is a 'political choice'.
He said: 'Austerity could easily have spared the poor, if the political will had existed to do so. Resources were available to the Treasury at the last budget that could have transformed the situation of millions of people living in poverty, but the political choice was made to fund tax cuts for the wealthy instead.'
During his two-week visit he met people 'who depend on food banks and charities for their next meal, who are sleeping on friends' couches because they are homeless and don't have a safe place for their children to sleep, who have sold sex for money or shelter, children who are growing up in poverty unsure of their future, young people who feel gangs are the only way out of destitution, and people with disabilities who are being told they need to go back to work or lose support, against their doctor's orders'.
Earlier this month chancellor Philip Hammond reiterated in his latest Budget that the Ministry of Justice will have to make £600m in savings by the end of the decade.
The government is currently reviewing the impact of LASPO and will publish its report by the end of the year. Justice minister Lucy Frazer insisted to MPs this month that the government had 'not stood still' on legal aid.