The American Bar Association has adopted unusual tactics to fight Congress over legal aid funding, including handing out custom-made baseball cards to US politicians with real-life examples of how legal aid has helped their constituents.
In the US, the federal government spends $385m a year funding the Legal Services Corporation, which supports more than 800 legal aid offices around the country. The US Congress, which consists of two chambers, is split on funding - the Senate wants to keep funding at the same level while the House of Representatives wants to cut it. President Donald Trump had proposed it should be abolished altogether.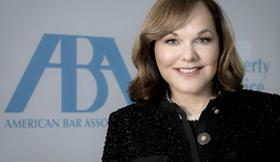 In London for the LawWorks Pro Bono Awards last night, US litigator Hilarie Bass, president of the American Bar Association, highlighted to the Gazette the shrewd tactics that the association has adopted to prevent legal aid cuts.
Every year the association organises an 'ABA Day' in Washington DC, where members descend on Capitol Hill to advocate on behalf of the profession. This year the association focused on homeless veterans who, Bass explained, 'have often not got legal assistance to pursue their rights to benefits or perhaps they have landlord and tenant problems'. The association also advocated for LSC funding to return to $450m, which was roughly the appropriation for the 2010 financial year, before the economy dipped.
Another tactic the ABA deployed was to ask legal aid recipients to visit the association's website, and submit their name, photo and a brief description of how access to a lawyer made a difference to their lives. 'We made little baseball cards with a picture and explanation... When we showed up to a Congress person, we handed them the cards from their constituents. The reaction was so positive. Rather than it just be a bunch of lawyers advocating for help for other lawyers, the legislature saw it in terms of their constituents.'
A 2017 Justice Gap report published by the Legal Services Corporation shows that at least eight out of 10 civil legal problems reported by low-income Americans received inadequate or no legal help. Seven in 10 low-income households experienced at least one civil problem in the last year, including problems with healthcare, housing conditions, disability access, veterans' benefits and domestic violence. This year low-income Americans were expected to approach LSC-funded legal aid organisations for support with an estimated 1.7 million problems. However, they will receive limited or no legal help for more than half of these problems due to lack of resources.
Threats to legal aid funding have been 'off and on', Bass said. 'When Reagan was president he tried to eliminate it... We thought we might be in trouble when Donald Trump came in but everyone was shocked when we saw his proposed budget.'