The family justice system has done so well to keep going during the pandemic that some courts have even cleared their case backlog, the president of the family division has said.
Sir Andrew McFarlane praised the 'can-do mentality' of everyone working in the family justice system at Resolution's Future of Family Practice conference yesterday and again at Support Through Court's family law breakfast webinar this morning.
McFarlane told around 300 people at Resolution's virtual conference that family was 'above all areas of law in England and Wales' in keeping going during the pandemic. While jury trials had to be halted and it was difficult to get other matters going from day one, family 'pressed ahead and achieved a surprising penetration into the volume of cases'.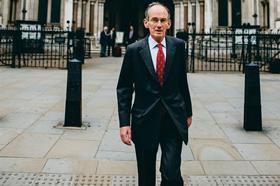 McFarlane said some courts now had no backlog of cases. Others had a backlog 'but they have got a plan for dealing with them. People are just cracking on and getting through the work.
'We are sitting, and have sat, more days in family than ever before, despite the fact we have not had the courtrooms,' he added.
The president told today's webinar that 'from a slow start, when it was just full-time judges sitting in the early days of the pandemic, we have drawn in part-time judges, drawn In judges who have a family ticket, and some criminal judges with a family ticket, and we have reached a record level.
'In the four weeks to 23 August, we undertook 95% of the volume of work for public law case sittings than we would in normal times, and 80% of private law sittings.'
However, McFarlane said these achievements came at a cost: 'It is stressful working remotely. It is more tiring than when undertaking cases in the ordinary way… To face engaging in this way for another six months, it saps your morale, particularly if you are already knackered by what you have given so far.'
Looking ahead, the president told Resolution's conference that remote working had 'accelerated by years' some of the work that can be done digitally, and case management and directions hearings could be heard remotely. However, 'any hearing that involves the family engaging directly with the judge or magistrate, we must get back to having those hearings face to face in the courtroom as soon as we can'.
McFarlane is not planning to issue more guidance. The Nuffield Family Justice Observatory, which published a report on remote hearings following a 'rapid' consultation in April, has received more than 1,000 submissions for its follow-up report, which is due to be published shortly. Guidance could be amended should the observatory flag up any 'deficits'.