Crown prosecutor on St Helena, Ascension and Tristan da Cunha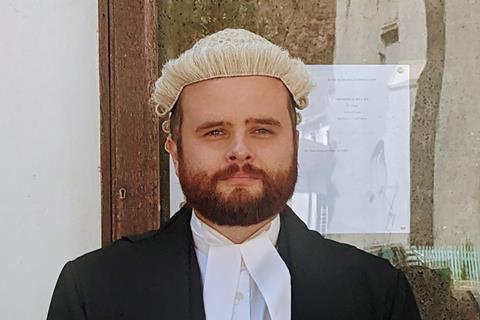 Embarking on a legal education was something of an accident. My local comprehensive school decided to offer a new GCSE law course. I had no idea what a lawyer did beyond what I'd seen in American courtroom dramas. By the end of the first lesson I'd found my calling. My tutor was a fantastic role model, an old-school criminal defence lawyer who succinctly summed up his former career: 'I was basically paid to argue!'
From early on in my legal education I wanted to practise criminal law. The long hours of sitting at a screen and working on commercial contracts, IP disputes or mergers and acquisitions did not appeal to me. I always preferred the idea of the cut and thrust of courtroom advocacy, having to think on your feet and, importantly, helping those who would otherwise be unable to help themselves.
While no one qualifies as a criminal solicitor for the money, the job satisfaction is priceless. I was fortunate enough to qualify with Bhatia Best Solicitors, one of the largest defence firms in England and Wales. I received excellent exposure to the full range of criminal litigation and advocacy, from routine motoring offences through to complex drugs conspiracies, fraud and murder. No two clients and no two days were the same.
Although the 3am police station call-outs were barely tolerable, I gradually became more disenchanted with the way the criminal justice system was heading. Public funding cuts, court closures and government policy have left the system in a desperate state. Covid was the final straw which saw (at the height of the pandemic) a backlog of half a million criminal cases.
'Saint Helena has been fortunate enough to completely escape the pandemic and life here has continued as normal. The justice system runs incredibly smoothly and efficiently'
A 3am internet search on an obscure legal jobs website led me to the careers page on the Saint Helena government website. My knowledge of Saint Helena went no further than knowing it was where Napoleon Bonaparte was exiled by the British in 1815. The vacancy headline read: 'A Covid-free, subtropical island of natural beauty.' That was all the incentive I needed to complete an application form.
Truthfully, I applied not expecting to even get an interview. I had done no prior prosecutorial work and had no experience of working within the public sector. Against my expectations, I was offered a six-month locum position in January 2021. I have just been offered a further two-year contract.
I was concerned that coming from a defence background would place me at something of a disadvantage. However, I've found that having a defence mindset and being aware of all the tactics and strategies employed by defence lawyers have been hugely beneficial. I am the Crown prosecutor for the British overseas territory of Saint Helena, Ascension and Tristan da Cunha. I practise in the world's most remote courthouse. I am responsible for all criminal prosecutions in the magistrates' court, Supreme Court (akin to the Crown court in England and Wales) and appeals before the Court of Appeal. I also advise the police on pre-charge investigations, assist legislative drafting, advise the government on criminal law matters and conduct training for the police. My caseload consists of a surprisingly wide range of cases including motoring matters (curiously, Saint Helena has the highest recorded drink-drive limit in the world and no seat-belt law), domestic assaults, serious sexual offences and drug offences. It's very varied work, it's surprisingly busy and always enjoyable.
The most rewarding aspect of the job is being able to apply common sense and level-headed decision-making. This ensures that the right people are prosecuted for the right offences and that both victims and defendants are treated correctly.
Saint Helena has been fortunate enough to completely escape the pandemic and life here has continued as normal. The justice system runs incredibly smoothly and efficiently. Defendants can progress from an arrest to a jury trial in a matter of weeks. Of course, there are no middle-of-the-night police station call-outs. These are all factors to weigh up in deciding whether or not to come back to the UK. I have family back home so will probably return at some point but as to whether I'd prosecute or defend, the jury's still out.