Principal solicitor at Greystone Solicitors, Luton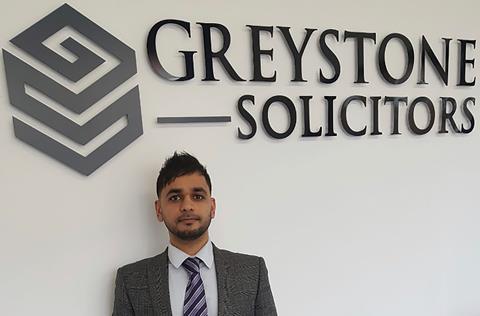 My siblings and I were encouraged to pursue specific careers. My sister became an optometrist and I became a solicitor. It was a natural decision for me, as from a young age law has fascinated me; not simply the law itself, but the lives of people, their stories, the how and why as to their need for a legal representative.
My route into law was conventional. I graduated from the University of Bedfordshire with an honours degree in law and went on to complete my master's in international commercial law. I then enrolled at the London Metropolitan University to begin my LPC, where I obtained a distinction, while simultaneously completing a training contract with a law firm in Luton. After I qualified as a solicitor, I went on to work at a niche personal injury firm in London, before working for the Motor Insurance Bureau in Milton Keynes. While I enjoyed and valued the experience that these firms provided me with, I knew I had more to give.
At 30 and with only two and a half years' PQE, I was eager to run my own law firm. I made an application to the Solicitors Regulation Authority to be granted a waiver to open my own practice. My application was approved in August 2018. Setting up was very difficult. In addition to working full-time, I was viewing premises, managing building-works, and thinking of company names, logos and graphics. They were on a list that, at the time, seemed limitless. There were many sleepless nights where I began to question what I had done. Was this right for me? Could I really achieve everything I had set out to do? With a vast amount of perseverance and dedication, Greystone Solicitors opened in 2018.
Owning a firm was never my 'plan A'. Early in my career I had always sought employment in international firms and my applications were copious; however, I was never successful. This was an important experience that I believe has shaped my career and how I manage my law firm now.
I will be holding open days and welcoming work experience so that students begin to understand the reality of working in a law firm
Considering the April 2020 personal injury reforms, I knew the importance of having a diverse law firm. I needed a firm that specialised in several areas which would cater to more clients and give more legal experts opportunities.
I'm a strong advocate of giving people the opportunity to reach their potential. Within my firm, I wish to retain staff, establish positive working relationships, and support and encourage staff to grow and succeed in law. Furthermore, I aim to inspire young people and aspiring lawyers by giving seminars in colleges and universities – providing information, support and honesty with regard to the process of beginning a law career, progressing that career and starting a law firm if they wish to do so. In the coming months I will be holding open days at my firm and welcoming work experience so that students begin to understand the reality of working in a law firm. This will help them decide whether a career in law is something they wish to pursue.
In respect of clients, I understand that people can't always be available for appointments between Monday and Friday. Also, a lack of money can inhibit the very people who need help. This is why I have set aside free drop-in clinics for immigration matters on Fridays and Saturdays.
It is my duty as part of the community to give back to the community. This is why I network with charities and organisations to make them aware of the ways in which my firm can help. The free drop-in clinics for immigration are my way of helping.
If I could impart some wisdom to any solicitor who aspires to open their own firm, I would say never give up. Each day is unpredictable while you are finding your feet, and you need to know that results won't come overnight. But as long as you have the right attitude, are hardworking and willing to put in the hours, before you know it your business will be on the map. Perseverance is key.
Managing a law firm could be made easier with the right knowledge and less stringency in some areas. For example, in addition to the SRA ethics team, I would like to see the regulator offer free quarterly seminars and webinars on compliance and accounts to help those managing firms.