I studied law and graduated in 1985 but I was unsure if I wanted to become a lawyer. I spent a year working full-time as an advice worker at the Citizens Advice Bureau. It was only then that I realised I was good at listening to clients, working out their problems and providing advice. The following year I enrolled on the Law Society finals.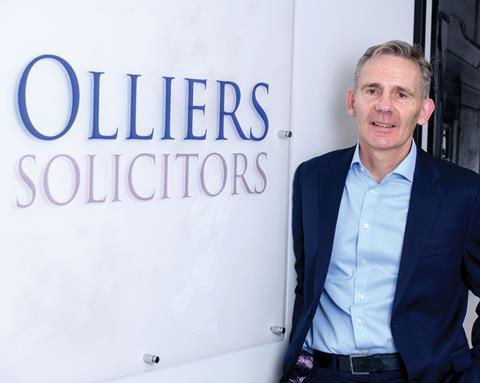 I started my training in 1988 at a branch office of Olliers and it was a bit 'sink or swim'. My training principal left six months into my contract and his replacement worked in another office. I avoided making mistakes because I knew my limits and asked a lot of questions, but I was not closely supervised. Since then, I have been training principal to nearly 30 trainees, for whom we have a structured, comprehensive programme.
I knew that if I was to become a lawyer I would specialise in crime. I applied for a training contract at all of the crime practices in Manchester. Five of the firms I applied to all replied on the same headed notepaper advising that they were not offering training contracts having just merged to become one very big firm (Burton Copeland). I wrote to another up-and-coming outfit and they invited me for an interview the following day. I arrived only to discover that they had shut the office and gone home early.
The biggest challenge when defending allegations of sexual offences is the anxiety and powerlessness felt by those facing an allegation that they deny. It is extremely difficult to manage expectations, particularly in relation to timeframes and delays that can take place with the analysis of computers and phone devices. It is good to be able to reassure a client that proactive steps can be taken and it is at this point that they can see a route to a successful outcome.
There should be a more open approach with greater pre-charge defence engagement with the prosecution. If the defence and prosecution can work together, weaker cases can be filtered out, reducing the stress and anxiety not only for my clients but also for complainants. With more disclosure on both sides lines of enquiry can be established and we can see a reduction in the number of weak cases coming before the court. I think we will see substantial progress in this area over the next few years.
With a fraud case we generally have more time to prepare, there is much more documentation and investigations can last for years. We defend fraud allegations investigated by the Insolvency Service, HMRC, the police and the Serious Fraud Office. The SFO is different in that it has additional powers and we advise clients who have been required to attend compulsory interviews under section 2 of the Criminal Justice Act 1987.
Olliers has come a long way from the late 1980s, when the most common offences were joy-riding and stealing car radios. The 1990s saw us defending clients caught up in gang crimes. There was a lot of shooting among gangs and our involvement in this area continues, with an emphasis on knife crime. The early 2000s saw us involved in fraud cases, in particular those prosecuted by HMRC. Many firms including Olliers were involved in a significant number of terrorism cases in the post-9/11 years. The last five years or so we have seen a greater number of sex offences being prosecuted. Huge emphasis is now placed upon computer and telephone evidence, particularly in gang-related conspiracies and other forms of serious crime. Fraud cases remain paper-heavy. Modern slavery investigations are on the increase.
An exciting development for criminal practitioners is the complete digitisation of criminal defence work. The digital case system in the Crown court has transformed the way practitioners can operate. Our office is now completely paper-free, allowing for huge levels of flexibility in the way our staff work. This is crucial for attracting lawyers to the firm and to the profession in general.
I have lost count of the number of times people ask me how I represent someone when they are guilty. A lot of people want to hear interesting stories. I like to focus on how exciting criminal defence work is, the level of satisfaction that I continue to get, and often I find myself turning my answer into a PR exercise for the work that criminal practitioners do.