Principal solicitor and director, Birmingham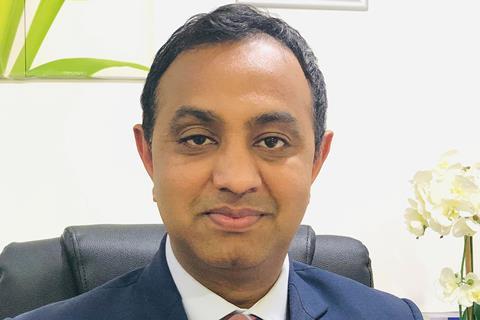 I started my professional career at the age of 17 as a deck cadet in the merchant navy. I am the youngest in the family and I was the first member of my family to go to a foreign land (that is, outside India). After a few years, I decided to quit the navy because I had been a long time away from my parents. I then completed my graduation and decided to pursue my career in a legal profession. My father was a qualified advocate and was working as a legal adviser in one of the central government's offices. He always wanted to see me in an active legal profession.
Inspired by my father, I sat an entrance test to be admitted into one of India's prestigious universities and came 11th out of tens of thousands. Upon doing bachelor of law studies at Panjab University, Chandigarh, India, in the final year, I started going to the courts and joined the office of Rabindra Pandit, who had a renowned criminal law practice in Chandigarh. After completing my degree and getting my practising certificate as an advocate, I immediately started an independent legal practice.
The day I started my active legal practice was memorable for my entire family. I was very happy to wear the advocate's dress and I still remember my father put a bow tie on me and wished me luck.
After three years of legal practice, I decided that I needed more from my life and I decided to go abroad to do a master's degree in law. The UK is the perfect destination as it recognises the legal practice and legal education of India.
After completing my master's in 2008, I went on to do the Qualified Lawyers Transfer Scheme tests and received my certificate to practise as a solicitor. I was then very confident that my future would be bright and I would soon be successful. However, it took me more than five years just to glimpse the inside of a law office. From 2008 to 2013, there were hardly any law firms that I did not approach for a job. I was either rejected or did not receive a response. Those years were the most challenging of my life.
There were hardly any law firms that I did not approach for a job. I was either rejected or did not receive a response
I continued to do odd jobs including being a debt recovery agent, personal loan adviser with a bank and a complaints-handling manager. Through these jobs, I somehow always stayed in touch with the legal profession, by visiting local temples and community centres. I used to help people by filling in forms, reading and writing letters, helping them claim benefits, calling council offices, applying for bus passes, registering companies, explaining legal notices received from India, and so on. I also continued to read new judicial pronouncements through different books and journals.
Finally, in 2013, I got my first invitation to an interview at a law firm. After a couple of hours of intense interview, I got selected for a fee-sharing position.
With a couple of years of work experience and learning under my belt, I felt that I could do more – and on my own. I then decided to start my own sole legal practice.
Here, I faced the massive difficulty of getting a quote for indemnity insurance. After a lot of detailed research and reading hundreds of blogs, I approached numerous brokers. However, once again, everyone declined my sole profile for indemnity insurance. I never lost heart.
In 2015, my dream became a reality and I established Garg Solicitors. I was aware that my decision was extremely risky, especially when I had waited for more than seven years to have my first sight of a law office. I learned that sometimes 100% effort is not enough to gain the intended result – one needs to give 200%.
I started with a niche practice in landlord-tenant disputes, where I covered almost all the courts of England and Wales. As Birmingham is mostly dominated by a mixed community and migrant population, I decided to introduce an immigration practice, too, which is working very well. I have started making videos where I discuss various immigration-related issues and these are getting more than 1,200 views every week.
My career highlights include being nominated in 2018 for the Law Society Excellence Awards. In the same year, I was also nominated in The British Indian Awards for Best SME Business. In 2019, I was nominated in The British Indian Awards for the Rising Star in Law award.