The new attorney general has been asked to attend parliament immediately and explain why police and prosecutors have failed to meet their disclosure obligations. Failures were identified in nearly half of criminal cases in a review by Crown Prosecution Service inspectors.
Shadow attorney general Shami Chakrabarti said the failure 'amounts to a national scandal in our justice system' and that Geoffrey Cox QC MP, who was appointed attorney general last week, 'must come to parliament with an explanation and remedy, without delay'.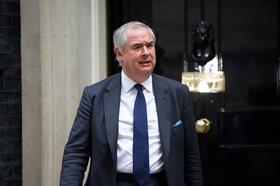 The HM Crown Prosecution Service Inspectorate's report, published today, follows a two-year review of CPS areas across England and Wales.
Inspectors found that the police fully complied with their disclosure obligations in relation to unused material in 56.9% of cases. There was partial compliance in a further 36.7%.
Poor descriptions of items on the unused material schedules was the main cause of counting cases as failing the standard expected. A third of cases were marked down for reasons including sending wrong schedules, not dealing properly with witnesses' previous convictions, or not signing the required declaration regarding unused material.
Inspectors saw 'limited evidence' of prosecutors identifying police lack of compliance in reviews or other notes on files, or of the failings being fed back to police.
Prosecutors' compliance on initial disclosure 'was not much better', the report states.
Disclosure requirements were fully met in 58.4% of cases. Disclosure record sheets were properly completed, with actions and decisions fully noted, in 32.3% of cases. Continuing disclosure was better handled, with 64.8% of applicable cases fully meeting the expected standard.
Of the 429 cases that failed at the initial or continuing stages, eight featured a failure throughout the life of the proceedings to disclose material that undermined the prosecution case or assisted the defence. However, inspectors say these eight failures did not result in any miscarriages of justice.
Looking at case progression, inspectors found that cases did not progress as efficiently after the first hearing. Directions were complied with in a timely manner in only half of the applicable cases inspected. Over a quarter of decisions to discontinue were not put into effect in a timely manner.
Commenting on the report, chief inspector Kevin McGinty said it was encouraging that leadership, staff and public engagement were found to be CPS strengths. But he said the CPS 'needs to improve on the timely review of casework if it is to reduce delays and inefficiencies in the trial process'.
A CPS spokesperson said tackling the issues around casework and disclosure are top priorities.
'We are working with the police and partners across the criminal justice system to bring lasting improvements to the way we handle disclosure and a number of measures are already in place. By September our prosecutors will have completed mandatory disclosure training; local and national improvement plans are in place and we will continue to monitor progress closely,' the spokesperson added.