Pioneering female barrister Helena Normanton became the 976th recipient of an English Heritage blue plaque at a ceremony in London's Bloomsbury yesterday. Normanton (1882-1957) was the first female law student at one of the Inns of Court and one of the first to be called to the bar.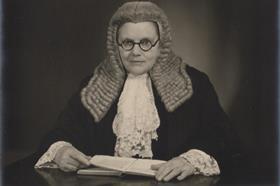 As a practising barrister, she was the first female counsel to lead in a case at the High Court; the first woman to accept a dock brief and run a trial at the Old Bailey; and one of the first women to take silk.
The plaque, unveiled by former Supreme Court president Lady Hale, marks 22 Mecklenburgh Square, Normanton's home from 1919 to 1931. While living there, Normanton funded her training and supplemented her income by letting rooms in the property.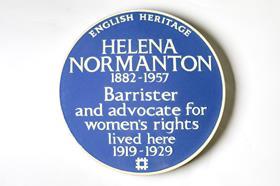 'Helena Normanton was the pioneer of female barristers,' Hale said. 'She had to overcome a great deal of prejudice and discrimination. A blue plaque is a fitting tribute to her courage and her example to women barristers everywhere.'
Anna Eavis, the curatorial director at English Heritage, said Normanton 'scored a remarkable number of firsts in her legal career and paved the way for other women to advance in the profession'.
Middle Temple accepted Normanton's application for entry, making her the first woman to be admitted to an inn of court, on 24 December 1919, the day after the passage of the Sex (Disqualification) Removal Act. She was also involved in various feminist campaign groups, including the Women's Freedom League and the Married Women's Association.