Women's groups are planning to issue legal proceedings against the Director of Public Prosecutions after official figures showed a significant drop in the number of rape prosecutions.
The Crown Prosecution Service today published the 2018-19 Violence against Women and Girls report. Data for rape and serious sexual offences shows that, compared to 2017-18, pre-charge decisions completed by the CPS fell by 14.9%, from 6,012 to 5,114. The proportion of pre-charge decisions that led to a charge fell from 46.9% to 34.4%. Completed prosecutions fell by 32.8% - from 4,517 to 3,034. Convictions fell by 26.9% - from 2,635 to 1,925.
The proportion of cases where the police did not respond to CPS requests for additional evidence or reasonable lines of enquiry within three months increased from 21.7% to 28.6%. The conviction rate jumped from 58.3% to 63.4%.
The report says potential factors that may have affected rape charge numbers include an increase in the volume of digital data 'which takes time to investigate, and so may result in cases taking longer to reach the CPS'.
Max Hill QC, director of public prosecutions, said he fully understood why the fall in charging rates 'is so concerning' and acknowledged the need for a 'frank and full conversation'. He has asked independent inspectors to review the CPS's work.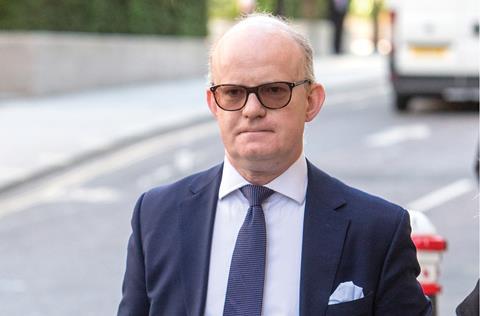 However, the Centre for Women's Justice says it will apply to the High Court for a judicial review and serve it on the CPS next week.
The centre claimed in June that the CPS had covertly changed its policy and practice in relation to decision-making on rape cases, which resulted in charging numbers falling. The centre says it has now amassed 'compelling' evidence to support their claim.
Solicitor Harriet Wistrich, the centre's director, said: 'The CPS have repeatedly denied that they have changed their approach to the prosecution of rape. They have variously blamed the fall in the number of cases prosecuted on the delays caused by disclosure demand post the Liam Allen case, and on the police for the failure to progress and refer cases.
'However, we have gathered evidence from a variety of significant sources which taken together provide a compelling picture that the primary cause of this collapse in prosecutions emanates from a deliberate change in the approach taken by the CPS dating back to late 2016.'
In a foreword to today's report, Hill said the growing gap between the number of crimes recorded and the number of cases going to court 'does not indicate any change in policy, or lack of CPS commitment to prosecute'.
Measures to increase transparency include publishing VAWG statistics quarterly instead of annually, a mandatory training programme for specialist rape prosecutors, a project to understand changing sexual behaviours and associated myths and stereotypes, and new pre-trial therapy guidance.