More than 83,000 weapons were brought onto the court estate in the last three years, including nearly 30,000 last year, the Ministry of Justice has revealed.
The figures were provided in a written parliamentary response last week to Labour's Alex Cunningham MP, who asked how many weapons were confiscated on the HM Courts & Tribunals Service estate in the last three financial years.
Justice minister Chris Philp said a total of 26,723 knives with blades under three inches were taken away, including 8,075 in 2019/20.
The number of confiscated knives with longer blades has steadily risen - 467 in 2017/18, 553 in 2018/19 and 598 in 2019/20.
Security confiscated 4,188 other blades in 2019/20, significantly up from the 2,322 confiscated the previous year. Two genuine firearms, 24 other firearms, 14,277 sharp items and 1,081 other weapons were confiscated last year.
The figures are likely to significantly fall this year due to Covid-19 forcing several courts to shut. The impact of the pandemic can already be seen in latest knife and offensive weapons sentencing statistics. Nearly 5,000 offences resulted in a caution or conviction between January and March this year, a figure that nearly halved between March and June, when the country first went into lockdown.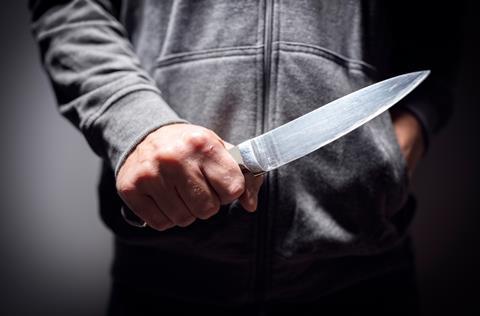 Philp said HMCTS had embedded a series of measures designed to keep its buildings and court users safe. Security search on entry procedures were in place to ensure risks to personal safety were minimised.
HM Courts & Tribunals Guidance states that those who bring guns, firearms, knives or other weapons will be reported to the police. Items that security staff think can be used as a weapon are not allowed in court, such as scissors, metal cutlery, perfume, full-length umbrellas and crash helmets.
A spokesperson for HMCTS told the Gazette: 'The security of all court users and staff is our priority, which is why we have robust safety measures across all our buildings. We will always report illegal items to the police.'
Last year the president of the family division revealed that, over a period of four months, court security seized 473 knives with blades over three inches long at a London court.
In June, prime minister Boris Johnson pledged £142m to improve 100 courts, which will include security protocols.