Prosecutors and police are failing to investigate thousands of cases including fraud, rape and modern slavery efficiently because the required skills and resources are critically low, the outgoing director of public prosecutions has said in a newspaper interview that has sparked widespread anger.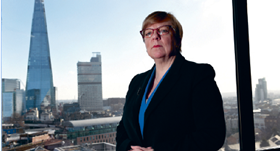 Alison Saunders, who steps down as Crown Prosecution Service chief on Wednesday, told the Observer that many fraud cases are being ignored 'because it takes time and a skilled investigator'. The criminal justice system is also struggling to cope with an explosion of data being generated by technology. In some cases, Saunders said, downloads of online data take six to eight months to review. In one recent rape case, police spent 600 hours going through the digital material.
The outgoing DPP said the system needed more resources nationally, 'in capacity of forces and in future-proofing it. Who is making the plans for what is going to happen in five years' time?'
Asked if the criminal justice system is failing, she said: 'It's really creaking.'
Saunders said she felt bruised by her five-year tenure, telling the newspaper that despite losing a third of her workforce as a result of funding cuts, she was proud that 'morale in the service is demonstrably better' than when she took charge in 2013.
Discussing disclosure challenges, she said initial conversations between the CPS, the police and defence about what evidence would be used in court was 'what's been missing - that system-wide, early-doors approach to it'.
Saunders' comments have not gone down well among criminal practitioners, who criticised her for not acknowledging the crisis earlier.
The Criminal Legal Aid Lawyers Group asked 'why has it taken five years and your last week as DPP to speak out publicly about the dire realities of the criminal justice system?'
The Secret Barrister, a legal blogger, said: 'Gosh. If only this Alison Saunders, talking honestly about the chronic under-resourcing of the Crown Prosecution Service, had been DPP. Instead for five years we've had that obliging civil servant blithely insisting that all was well as the CPS burned.'
Today, Saunders praised criminal barristers as she penned, for the first time, the Criminal Bar Association's weekly update. She said: 'When prosecuting on our behalf you bring a fresh perspective to a case. We particularly value your courtroom experience and advice on case strategies. I see outstanding examples of your skills in talking to victims and witnesses, and supporting them to give their best evidence, and am also grateful for the flexibility and resilience you display.'
Saunders was asked to include in her message what change she would make to the criminal justice system if money were no object. She said she would address 'reward' across the system - for the CPS, other public sector staff and criminal barristers.
She would also see how technology can be improved to support everyone's roles: 'Digital forensics offer us valuable evidence in cases, but at the moment they simply take too long. And everything from faster Wi-Fi connections in court to the use of Artificial Intelligence could make everyone's roles easier and the system faster and more effective for victims, witnesses and defendants.'
She concluded her message by thanking 'all who work with us on the prosecution or defence side for your continued commitment and professionalism despite the challenges you face daily'.
Saunders will be heading to Linklaters, where she will join the magic circle firm's business crime team within the dispute resolution practice.