Five-star show for silks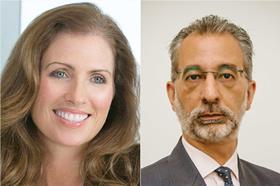 Five solicitors, including two at US firm Latham & Watkins, have taken silk – one behind 2016's record number. They are: Philip Clifford and Sophie Lamb, partners at Latham & Watkins, Louis Flannery, partner at Stephenson Harwood, Imran Khan, founding member of Imran Khan and Partners, and Reza Mohtashami, partner at magic circle firm Freshfields Bruckhaus Deringer. Khan is the first criminal law solicitor to make the grade in several years. Solicitor Janet Legrand, partner at DLA Piper and chair of the Trustee Board of The Children's Society, has been granted honorary QC status.
Planning for post-Brexit justice
Lawyers welcomed with relief the declaration on 'legal certainty and clarity' – including mutual recognition and enforcement of judgments – in the Brexit phase 1 agreement reached last month. However the Law Society cautioned that the 'real complexity' of the deal lies ahead.
Among several breakthroughs, the joint report of the negotiators of the EU and the UK government appears to resolve the row over the role of the Court of Justice of the EU in protecting the rights of EU citizens in the UK after 2019. In a significant concession, Brussels abandoned its demand for the CJEU to have continued jurisdiction. Instead, UK courts shall have 'due regard' to relevant decisions of the CJEU. Meanwhile, consistent interpretation of citizens' rights should be 'supported and facilitated by an exchange of case law between the courts and regular judicial dialogue'.
The UK government and the European Commission would have the right to intervene in relevant cases before the CJEU and UK courts and tribunals respectively.
On more general cooperation in civil and commercial matters, the joint report says 'there is a need to provide legal certainty and clarity'. It sets out a 'general consensus that EU rules on conflict of laws should continue to apply to contracts before the withdrawal date and non-contractual obligations where an event causing damage occurred before the withdrawal date.'
On cooperation in criminal matters, 'there is a need to provide legal certainty and clarity', the agreement states.
On ongoing judicial procedures, both parties agreed that the CJEU should remain competent for UK judicial procedures registered at the CJEU on the date of withdrawal, and that those procedures should continue through to a binding judgment.
Drive for firms to publish fees
Plans to force firms to publish their fees are unnecessary and may simply confuse or mislead consumers, the Law Society told the Solicitors Regulation Authority. Chancery Lane rejected SRA proposals to require firms to publish their prices online, along with a description of what services are included. The proposal followed a call by the Competition and Markets Authority for more transparency and help for consumers in choosing a legal services provider. Initially, the SRA is proposing that the requirement would be limited to a select number of legal services, such as conveyancing or personal injury.
Responding to an SRA consultation, the Society said the CMA report had been a major driver of change and it acknowledged the importance of clients making informed decisions. But while perceived cost was a barrier to people accessing legal services, a blanket approach to publishing fees would do little to address this in practice.
'Clients have very different legal needs, and legal services are complex,' said the Society. 'Simply requiring more information to be published on websites is unlikely to result in people making more informed choices.'
Economic crime crackdown
A new National Economic Crime Centre will be set up to 'task and coordinate the response to economic crime', the government said. The agency, which will sit within the National Crime Agency, will have the power to ask the Serious Fraud Office to investigate suspects. 'The SFO will continue to act as an independent organisation, supporting the multi-agency response led by the NCA,' a government spokesperson said.
Andrew Smith, a partner at criminal law firm Corker Binning, told the Gazette that it is right that the SFO, which has made 'significant progress' under its outgoing director David Green QC, should continue to be tasked with investigating the worst allegations of fraud, money laundering and corruption.
Smith added: 'On paper this is an ambitious strategy, and part of a broader drive towards increasing transparency and accountability in financial services in particular. But the recent political past is littered with such strategies. Whether the NECC can achieve its lofty ambitions is ultimately a question of funding and expertise.'
Lammy calls for bench diversity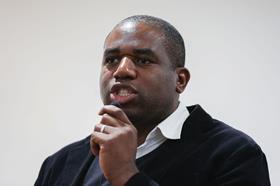 David Lammy MP, author of proposals to create a more diverse judiciary, criticised the government's apparent failure to commit to steps he concluded were necessary for balance on the bench.
Former prime minister David Cameron commissioned the Labour MP to study the justice system, and last year Lammy put forward 35 recommendations to address what he described as the bias and overt discrimination faced by black, Asian and minority ethnic (BAME) people.
The government published its full response to Lammy's report on race disparity in the criminal justice system before Christmas. Justice Secretary David Lidington insisted the government will 'take forward' work around each of the 35 recommendations but acknowledged that some cannot be implemented exactly as Lammy suggested.
Key proposals affecting the courts system, including targets for BAME judges and online reviews of judges, are effectively ruled out.
Lammy said he is 'disappointed' that ministers are not pushing ahead with targets for a more diverse judiciary.
TLT keys into AI business
Bristol-headquartered City and commercial firm TLT became the latest law firm to invest in an artificial intelligence technology business. The firm said that it had acquired a 'minority equity share' as part of a strategic partnership with LegalSifter, a US supplier of software to automate contract reviews. TLT declined to put a figure on the investment, but LegalSifter, a privately held company founded in 2013, reported earlier this month that it had raised $1.86m (£1.4m) from unnamed investors.
TLT said the partnership would enable it to offer a 'combined intelligence' solution for contract negotiation for in-house legal, procurement and operations teams. It will combine 'powerful artificial intelligence technology from LegalSifter with in-built legal advice and ad hoc legal support from TLT', the firm said. Users start by uploading draft contracts into the system. Sifters – software trained to read text for a specific concept which is learned over time – and in-context advice from TLT's commercial lawyers help users to identify missing terms and conditions and make changes to protect their interests.
The software is claimed to complete a contract review within a minute or two, with greater consistency, less risk of errors or missed terms and the assurance that a lawyer is available when needed.