The government could be forced to scrap or amend sweeping legal reforms following today's snap election announcement.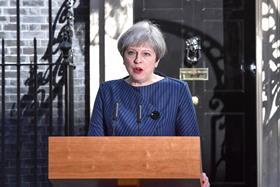 Prime minister Theresa May announced that the country will go to the polls on 8 June – subject to the parliamentary approval under Fixed-term Parliaments Act – with parliamentary business ending on 2 May.
That leaves less than two weeks for the government to force through ongoing legislation, including the Prisons and Courts Bill, which paves the way for online courts, virtual hearings in criminal cases and major reforms of the personal injury sector.
The parliament website states that all unfinished business of the session must be dealt with before parliament is dissolved.
The government can seek the co-operation of the opposition in passing legislation quickly. Labour has so far been reluctant to interfere with the justice legislation, which suggests there may be scope to push it through.
There is also the possibility of the bill being trimmed to ensure speedy progress, with the government slashing elements that are thought to be more contentious.
If legislation is not included in the so-called 'wash up', it is likely to return after the election – assuming the Conservatives retain a majority.
But that would still put the process back several months and leave serious question marks over the proposed October 2018 implementation date.
The Gazette has approached the Ministry of Justice to confirm whether the bill will be pushed through in the coming weeks or is lost before the election.
One signal could be as soon as this afternoon, when the next session of the committee stage of the bill is set to be held in the House of Commons.
Speculation has already begun about justice issues that may form part of the government's re-election manisfesto.
Barrister Adam Wagner, from 1 Crown Office Row, said: 'The huge issue for human rights is whether Theresa May will campaign on a platform of leaving the European Convention on Human Rights.'
Wagner said it was May's long-term view that the UK was better served outside the ECHR and this may be possible if the Conservatives secure a large majority.