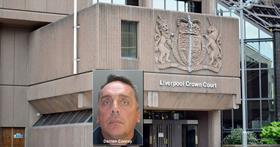 A gang figurehead who persuaded law firms to part with thousands of pounds for fake claims has been jailed.
James Conroy (pictured), from Liverpool, fronted a business called Hadgate Claims which purported to be a claims farmer referring RTA cases to lawyers for a fee.
In fact the company was referring fraudulent and largely fictitious claims that would never proceed past the initial submission stages.
Conroy, 48, was jailed for four years last week at Liverpool Crown court for 10 counts of conspiracy to commit fraud by false representation.
From July 2011 to August 2014, more than £295,000 was paid into the Hadgate Claims bank account, of which Conroy paid £8,450 to Adrian Gate, listed as the company director. Gate, 47 from Wrexham, was last week sentenced to 14 months' imprisonment, suspended for 18 months, and a three-month curfew for one count of conspiracy to commit fraud.
When Conroy stopped working with Gate he recruited another associate, John Slater, who set up a bank account and company under the name Harvey Davenport. (Slater has no connection whatsoever with John Slater, partner at Putney firm Slater, Bradley & Co.)
Solicitors and claims management companies continued to pay fees thinking they were dealing with Hadgate, with the company pocketing nearly £94,000. It paid £800 to Slater, 66 of Manchester, who also received a suspended sentence last week.
The fraud started to untangle in 2012 when complaints were made to police from an insurance company and a Merseyside firm of solicitors.
Conroy, Gate and Slater were arrested and a search of Conroy's home uncovered a number of other fraudulent activities.
It emerged that Conroy had moved on from legal claims after referral fees were banned in 2013, and set up a business called Information Station to start defrauding funeral plan companies.
This involved faking sales calls in front of funeral plan companies so they would sign up to the service. After paying £142,000 to Information Station, the main funeral plan company realised it was finding it difficult to contact the people who had been referred and links were severed.
The court heard Conroy submitted a fraudulent business interruption claim after a burglary in November 2014 at the Information Station premises. Conroy claimed for £590,000 on the basis of loss of vital equipment but received only £10,750 before he cancelled the claim.
Conroy was also involved in a crash for cash scam with the assistance of Mohammed Uddin, who allowed his details to be used in a fictitious accident and personal injury claim. Uddin, 29 of Oldham, was conditionally discharged for six months.
Also sentenced in court were Conroy's wife Susanna Connor, who received 20 months' imprisonment suspended for 18 months and 200 hours of unpaid work, and Andrew Dodman, a 52-year-old associate in the funeral plan scam, who received a 12-month suspended sentence.
Detective Sergeant Matthew Hussey, on behalf of the City of London's Insurance Fraud Investigation Department, said he was pleased to see the group brought to justice after such a long time.
'This sentencing is the result of a five-year investigation which has seen officers uncover multiple offences committed by this group of unscrupulous fraudsters,' he said. 'The offenders used their experience of working in the claims management industry to their complete advantage and would not stop even when legislation got in their way.'