Campaigner Gina Miller has instructed the 'same highly respected' legal team that helped her defeat the government over the power to trigger Article 50 to challenge Boris Johnson's decision to prorogue parliament for five weeks.
Hours after the Queen approved the prime minister's request to end the current parliamentary session in the second sitting week in September, Miller said she had instructed London firm Mishcon de Reya, and Blackstone Chambers' Lord Pannick QC and Tom Hickman QC to make an urgent judicial review application.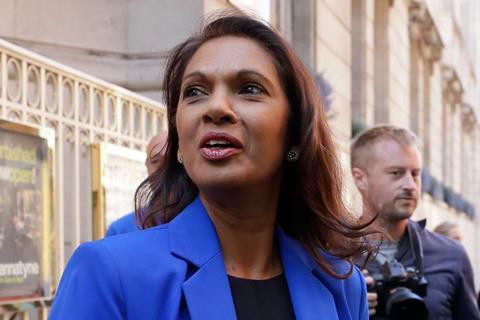 Miller said Johnson's actions 'are more akin to dictatorship than democracy and as such their legality must be tested in the courts'.
Last month Miller revealed that she had written to Johnson, asking him to confirm he would not advise the Queen to prorogue parliament before 1 November to prevent parliament from considering the enactment of a law to prevent a no-deal Brexit.
In a Q&A session posted on Mishcon's website, Miller insisted she was not trying to stop Brexit: 'This action seeks to preserve the sovereignty of parliament and to prevent the abuse of prorogative powers. Allowing parliament to enact law with respect to the manner in which the United Kingdom exits the European Union does not prevent the United Kingdom from leaving the EU.'
Lord Sumption, a former Supreme Court justice, told BBC Newsnight yesterday that Johnson's move was 'politically shocking in a parliamentary democracy' but 'whether it is legal or unconstitutional is a completely different question'.
Asked whether Johnson's decision is lawful, Lord Sumption said: 'Yes... What is wrong with this decision is not that it is beyond the powers of the government but that it is being done but for a mistaken political motive. I think it is impossible to suggest that the exercise of prorogative powers by ministers cannot be motivated by political considerations. But there are good political considerations and bad ones. The courts are not there to decide what are good political reasons and what are bad political reasons.'
Lord Sumption said MPs who want to avoid a no-deal Brexit have two choices: 'They can try to introduce emergency legislation - there is very little time to do that but it is, I suspect, just about possible. Or they can bring the government down.'