References to 'do-gooder, lefty lawyers' by government ministers are an attempt to ostracise legal professionals, the principal international legal professional body has said in a strongly worded attack on the UK government.
In a joint statement, the International Bar Association and International Bar Association Human Rights Institute (IBAHRI) said statements by home secretary Priti Patel and prime minister Boris Johnson show a 'disregard for the principles of international law guaranteeing the rights of refugees, and the fundamental right of every individual to legal representation'. Patel and immigration minister Chris Philp also displayed 'a dearth in understanding of the workings of the UK courts system', the IBA said. 'These types of comments form part of the government's wider attack against the rule of law.'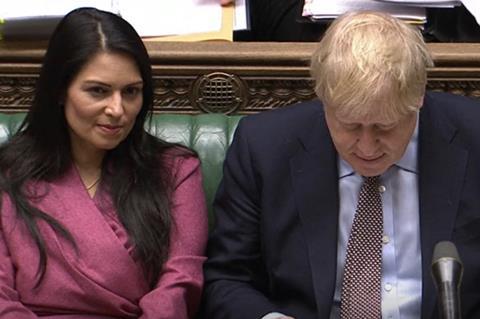 The statement goes on to note the alleged attack on legal aid firm Duncan Lewis Solicitors against the background of 'a misleading article from The Mail on Sunday and Mail Online which reported that "taxpayers [are paying a] £55million bill for lawyers blocking deportation flights of Channel migrants".'
IBAHRI director Baroness Kennedy (Helena Kennedy QC) said: 'The shameless attacks on lawyers is part of wider strategy to undermine the rule of law. The effects of the significant cuts to legal aid introduced under the Legal Aid, Sentencing and Punishment of Offenders Act in 2012 have only intensified during the pandemic.'


The IBA and IBAHRI called on senior ministers to issue an unequivocal public apology to the legal profession and to make 'a genuine effort to support and fund the justice system'.
'Lawyers should not be immune to constructive criticism, but they must not be the subject of a dangerous state-endorsed rhetoric,' the statement concluded.
The London-headquartered IBA claims to represent 190 bar associations around the world.