A year after the government announced a U-turn over legal aid for vulnerable migrant children, the Ministry of Justice has finally laid draft legislation in parliament to make good on the promise.
Once the statutory instrument, laid yesterday afternoon, is approved by parliament, immigration and citizenship matters for under-18s separated from their parents, or who are looked after by a local authority, will be brought back into the scope of legal aid.
The Legal Aid, Sentencing and Punishment of Offenders Act 2012 cut swaths of civil law from the scope of public funding. Special provision was made for children under 18 in family law proceedings to obtain legal aid but not for migrant children.
The government's change of heart was announced last year following a five-year legal battle. Then justice minister Lucy Frazer QC said her department had examined evidence presented as part of a judicial review brought by The Children's Society and government data on funding applications.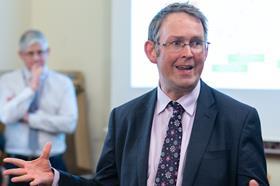 Research conducted by The Children's Society in 2015 showed that thousands of children in the UK on their own were being denied access to the law, leaving them vulnerable to exploitation, homelessness and unfair treatment. Removing legal aid for most immigration cases meant that many children, including those in local authority care, were at risk of being sexually abused or exploited because their immigration status could not be resolved.
The ministry has worked with the society and other children's charities on the LASPO amendment.
Justice minister Paul Maynard MP said: 'It is absolutely right that legal aid should be available to separated migrant children to resolve their immigration status, which is why this has always been available through the exceptional case funding scheme. The changes we are bringing in will mean they can access the support they need quicker and more easily.'
Dr Sam Royston, policy and research director at The Children's Society, said the changes will enable vulnerable children to access free advice and representation 'without the stress of applying for exceptional case funding, or trying to navigate complex immigration rules and human rights law all alone'.
Quarterly legal aid statistics published by the ministry consistently show that immigration accounts for the biggest proportion of exceptional case funding applications.