The Home Office is expected to face a barrage of criticism from lawyers over its widely trailed immigration and asylum reforms, which have been unveiled today.
The department says the New Plan for Immigration will speed up the removal of failed asylum seekers and dangerous foreign criminals and stop illegal arrivals gaining immediate entry into the asylum system if they have travelled through a safe country such as France.
Home secretary Priti Patel told the Commons today that the government would 'tackle the practice of meritless claims which clog up the courts with last-minute claims and appeals – a fundamental unfairness that lawyers tell me frustrates them too. Because for too long our justice system has been gamed'.
The new plan has been widely trailed ahead of today's announcement.
Writing in The Sun newspaper last weekend, Patel said: 'If you illegally enter the UK via a safe country in which you could have claimed asylum, you are not seeking refuge from imminent peril – as is the intended purpose of the asylum system – but are picking the UK as a preferred destination over others.'
She added: 'For too long the asylum system has been blighted by repeated and meritless claims. Claims that are often raised at the very last minute, delaying the removal of those with no right to remain in the UK. And, as research shows, 80% of last-minute claims submitted by people we are seeking to remove are eventually denied. This is simply not right.'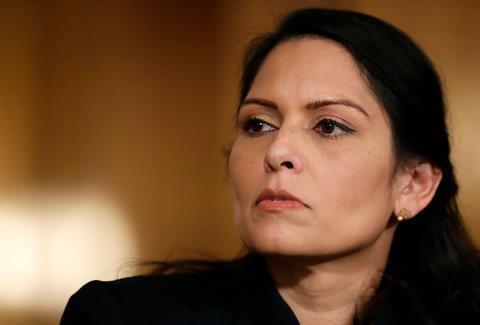 The 80% figure refers to claims raised in 2017.
Patel told BBC Four's Today programme this morning: 'Our system is broken on asylum and it is broken for a range of reasons…. We have many issues where our system is clogged up with repeated appeals through our immigration courts, tribunal and bail, and this is where we want to have end-to-end reform.
'Our ability to remove individuals with no right to remain in the UK is being undermined by repeated legal claims, and that is exactly designed to string out the process so that people aren't being removed who should be removed. So we are proposing some fundamental reforms and changes here, working with the Ministry of Justice to make the system much more effective and efficient, so that we can spend this valuable resource protecting people that need to be safeguarded and resettled in the UK.'
Commenting in advance of the announcement, the Immigration Law Practitioners Association said: 'The home secretary has said that the principle of fairness is at the heart of this plan, however that is plainly not the case. Sometimes you do not have a choice when you are fleeing for your life, and a person is no less of a refugee depending on how they made their journey to safety. To threaten a person's ability to live with their family based on how they travelled to the UK is particularly cruel, as is the proposal to leave people in limbo for years with an uncertain, temporary form of status.
'These measures, that explicitly target those who the UK has recognised as in need of international protection, will completely undermine their ability to integrate in the UK and is in direct conflict with the home secretary's assertion that she wants to help refugees build their life in the UK.
'It is positive to see the home secretary's acknowledgement of the importance of legal advice in supporting individuals through the process. However anything short of a substantial investment in quality legal aid advice is likely to be insufficient.'