Commercial lawyers can do their bit as 'enthusiastic amateurs' to help protect colleagues at risk and the rule of law in general around the world, the president of the Law Society told the global legal profession today.
'We need to ensure we are capturing the imagination and influence of the enthusiastic amateur,' Davis told a packed closing session of the International Bar Association's annual conference discussing ways to address the persecution of lawyers and judges.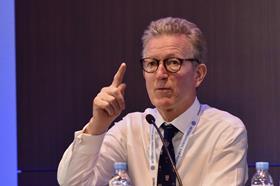 By uniting in solidarity the profession can show that human rights lawyers are not just some isolated group to be picked off by hostile authorities, Davis said.
'You can be a human rights lawyer in any organisation - we are all human rights lawyers,' the Clifford Chance partner said.
The conference heard accounts of lawyers being threatened, imprisoned and murdered in countries as diverse as Turkey, Thailand and Venezuela. In the Philippines alone, 44 lawyers have been killed over the past three years, Erik Hammerstein, a commercial litigator who sites on the board of Netherlands group Lawyers for Lawyers said.
Noting this year's furore over the granting of legal aid to a solicitor acting for a fugitive from justice, Davis said that the battle to protect the independence of the legal profession also had to be fought at home.
Confidence in the judiciary, along with other institutions, had fallen since the financial crash, Davis said. 'Judges are constantly undermined by the press of every hue and what has suffered has been the rule of law.' However 'times are absolutely changing' - Law Society research shows that the public values the rule of law as much as the NHS, he said.
Davis floated the idea of creating course materials on the rule of law for use by universities anywhere in the world.
At the same session, Baroness Kennedy of the Shaws (Helena Kennedy QC, director of the IBA's Human Rights Institute, listed ways in which the international profession can support lawyers at risk. These include intervention letters and follow-ups, and sending observers to trials - 'which isn't cheap'.
'We should always remember what independence means. The public are encouraged to think we are in cahoots with out clients so we have to get the public to understand.'
She also warned lawyers to be alert to new ways of putting pressure on lawyers. While in the past lawyers might be charged with treason or conspiracy 'now they are more subtle', she said, deploying accusations such as tax evasion or money laundering. In such a climate, 'Commercial lawyers are vulnerable too!'