A Hong Kong barrister who is leading protests against threats from Beijing says she has not given up hope that the rule of law can be preserved despite increasingly violent responses by the authorities. Margaret Ng (pictured above), of Sir Oswald Cheung's Chambers, was in Seoul this week to receive an award for her outstanding contribution to human rights - and to call for continuing support from the global legal profession.
Ng, a leading figure in Hong Kong's democracy movement over several decades, told the International Bar Association's annual conference: 'I have never seen Hong Kong so united. This is not about Hong Kong it is about the world, about universal values. We are now at a very critical stage. But I haven't given up hope. The Hong Kong people have stood up for themselves.'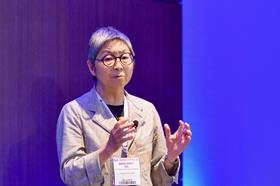 Hong Kong has experienced five months of protests since the special administrative region's government announced plans for a law to allow extraditions to mainland China. Explaining the controversy, Ng said that freedom from rendition without trial had long been recognised as an essential element of the 'one country, two systems' model under which the former British colony reverted to Hong Kong in 1997. 'If you remove this firewall, you will change the status of Hong Kong,' she told a session on 'Are human rights in retreat?'.
While the measure has been withdrawn for now, Ng said the city's government remains in thrall to Beijing, even if that puts Hong Kong's prosperity at risk.
Earlier this month Amnesty International accused Hong Kong's police force of behaviour amounting to torture in quelling protests. Ng echoed the concern, saying that police behaviour was now indistinguishable from that of hired thugs. Detainees were being held at a special centre close to the border and denied access to their lawyers, she said.
Ng will this week receive the IBA's award for outstanding contribution by a legal practitioner to human rights along with fellow campaigner Maritn Lee. The award is conferred on a legal practitioner deemed to have made an outstanding contribution to the promotion, protection and advancement of the human rights of any group of people, particularly with respect to their right to live in a fair and just society under the rule of law.