The former secretary general of the United Nations has cited UK government ministers' remarks as part of an increasing trend of attacks on lawyers around the world. Opening the annual conference of the International Bar Association, South Korea's Ban Ki-moon, UN secretary-general from 2007 to 2016, said that 'labelling lawyers who are simply doing their jobs as "activists" is both disingenuous and dangerous.'
In a clear reference to speeches made by prime minister Boris Johnson and home secretary Priti Patel at this year's Conservative party conference, Ban said attacks on lawyers, 'sometimes from the highest levels of government' attack the rule of law.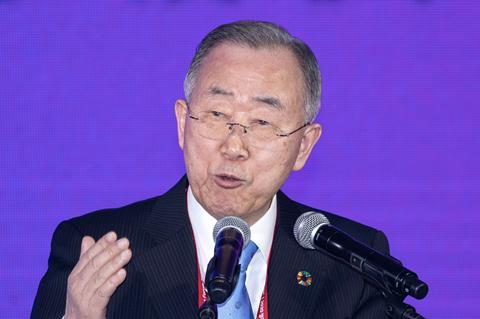 'Where lawyers are afraid to do their jobs due to fear and intimidation, the rule of law and the independence of the legal profession is weakened which weakens the very fabric of our societies,' he said.
Ban's speech also mentioned the Black Lives Matter protests in the United States and the killing of protesters by security forces in Nigeria as 'examples of disproportionate use of force, disregard for the law and impunity for those who abuse their powers'.
'If governments are genuine in their commitment to "build back better" from the pandemic, then they must uphold their international human rights obligations and refrain from turning lawyers into political scapegoats,' he said.
The International Bar Association, founded in 1947, claims to have 80,000 members in more than 170 countries. This year's annual conference, originally scheduled for Florida, is being held remotely under the slogan 'Virtually together'.