The criminal defence solicitor representing convicted killer Jack Shepherd has revealed that a letter threatening his family and law firm is among the torrent of abusive messages he has received.
A letter was sent to Richard Egan, senior partner of national firm Tuckers' London office, that said: 'Remember Jo Cox? You have been followed - nice house! Now, accidents happen, people get stabbed in London, pets get poisoned, children run over. Be warned (EDF) we will petrol bomb your nice office.' The letter, which features a swastika and 'Heil Hitler 88', has been given to the police.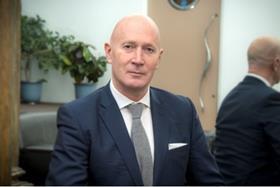 Egan: 'Defence lawyers have a role.'
Egan told the BBC: 'It threatens my family. It suggests that I have been followed and that the writer knows where I live and where I work. There is a specific threat to firebomb my firm, endangering the lives of my colleagues.'
Lord chancellor David Gauke said today in a tweet: 'Very concerned about death threats made against Jack Shepherd's lawyer. Such behaviour is completely unacceptable.'
He later said in a longer statement: 'I am deeply concerned to hear of the threats made against the lawyers representing Jack Shepherd. Criminal defence advocates play a vital role in upholding the rule of law and ensuring everyone has the opportunity to defend their rights. Whatever your views about this particular case, such intimidating and threatening behaviour is completely unacceptable in a civilised society.'
Fugitive Jack Shepherd was sentenced to six years in prison for the manslaughter of Charlotte Brown, killed when Shepherd's speedboat capsized on the River Thames in December 2015. The 31-year-old handed himself to police in Georgia last week.
Earlier this month it was revealed that Shepherd would receive legal aid for an appeal against his conviction and sentence, despite his continued absence, after the Court of Appeal granted permission to appeal. The public outrage prompted Tuckers to issue a statement on its website stating that it was 'duty bound' to continue to represent Shepherd.
Egan told the BBC: 'Defence lawyers have a role to play. Our system is based on the principle that all those accused by the state are entitled to legal representation. That is all I provide. The jury, directed by the judge, decides whether someone is guilty or not. In this case there seems to have been an attack on the role of the defence lawyer itself.'
Very concerned about death threats made against Jack Shepherd's lawyer. Such behaviour is completely unacceptable.

— David Gauke (@DavidGauke) January 29, 2019
Law Society president Christina Blacklaws said a 'fundamental principle' of British justice has been lost in the media frenzy surrounding the case - that regardless of the crime, the accused is entitled to legal representation, and the government has a statutory obligation to ensure this happens where required.
She said: 'Ensuring the defendant is properly advised and represented is a vital component of a fair trial. Often that advice will lead to a client pleading guilty; but if a client maintains their innocence, it is absolutely essential that a defence representative can challenge a case brought by the state.
'While it may seem counter-intuitive, it is in the best interests of all concerned - particularly victims and their families - that defendants have proper legal representation. Without it a fair trial would be jeopardised and cases could collapse.'
The London Criminal Courts Solicitors' Association said the public outcry was 'fuelled by repeated salacious and irresponsible reporting in the press and amongst politicians who have portrayed Mr Shepherd's defence team as enabling his absence while engorging themselves on legal aid payments. This death threat is the sad unintended, but not unexpected, culmination of the misrepresentation of the role of Mr Shepherd's defence team'.