Days after a leak to the Daily Mail revealed that a 32% pay rise was on the cards for High Court judges, the lord chancellor today announced an overall 2% pay rise for the judiciary.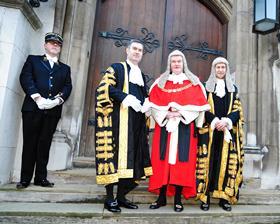 In a statement, David Gauke said the 2% increase is the highest for judges in 10 years: 'Our independent judiciary is the cornerstone of the rule of law, and effective remuneration is critical to the continued attraction and retention of high calibre judges.'
The Ministry of Justice says the rise is in line with that of other public sector workers, including doctors and police officers, following the Senior Salaries Review Body's 2018/19 annual pay review. However, it falls far below what the SSRB recommends in a supplementary report published today following a government-commissioned review of the judicial salary structure.
The SSRB says recruitment problems were principally occuring because conditions of service for a judge had become 'much less attractive' to potential applicants. Changes to tax and pensions meant the total net remuneration for a new High Court judge is worth £80,000 less than it was 10 years ago, £49,000 less for a circuit judge, and £29,000 less for a district judge.
The report states that those who join the judiciary are motivated by a challenging job and providing a valuable public service: 'The problem is that potential judges from the senior ranks of the legal profession are not applying in sufficient numbers. This situation requires urgent and effective intervention. It is generally accepted that the public sector cannot match the rewards for a top QC or solicitor. However, the judicial role needs to be made more attractive in order to recruit high quality legal professionals as judges.'
The SSRB recommends that High Court judges should be paid £240,000 (a 32% increase), £165,000 for circuit judges (a 22% increase) and £117,000 for district judges (an 8% increase).
Gauke said the government will 'carefully consider' the SSRB's recommendations 'and respond in due course'. Until then, the recruitment and retention allowance for High Court judges will remain.
In a statement this afternoon, the lord chief justice, Lord Burnett of Maldon, and senior president of tribunals, Sir Ernest Ryder, said they were grateful to the SSRB for its 'painstaking work over many months producing careful analysis of the unprecedented crisis in recruitment threatening the administration of justice'.
They said: 'A respected and effective judiciary is fundamental to the rule of law. As the government has said, the quality of our judiciary is a critical part of maintaining the UK as an attractive place to settle disputes and English Law a pre-eminent choice for contracts. The letter from Dr Martin Read, the chair of the SSRB, to the prime minister sets out with stark clarity the reasons for the difficulties, which stem principally from technical changes to the judicial pension scheme made by government.
'We look forward to the careful consideration of what changes might be made to the judicial remuneration package, promised by the government, providing a rapid solution to these problems before the recruitment position further deteriorates.'