A Labour government would build more law centres, shadow justice secretary Richard Burgon has announced, as justice issues dominated the first day of the party's annual conference in Liverpool.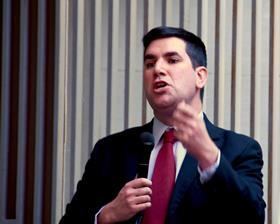 Burgon told a fringe event 'The Future of Justice in the UK' that his party will 'return legal aid to be a pillar of the welfare state and properly support law centres as engines of empowerment for working-class communities'.
Burgon has teamed up with the Law Centres Network to draft 'detailed' proposals 'and put this into reality when we come into government'.
The shadow justice secretary, a solicitor who has previously worked in the employment rights unit at Thompsons Solicitors, said the party wants a single parent to be able to fight back against a 'lousy landlord', ensure employees are not being exploited by 'bullying bosses' and that migrants can fight back against 'immoral and unjustifiable decisions'.
Burgon said he is 'very worried' about the future of the legal profession, especially criminal duty solicitors and legal aid lawyers.
The Law Society has warned that criminal defence lawyers are on their way to becoming extinct, which Burgon described as a 'time bomb on its way'. He said: 'At some point we are going to have the awful combination down the line, not only of the restricted scope of legal aid but the ever dwindling number of successors to [the profession's] heroes and heroines'.
Burgon's work with the Law Centres Network will include training the next generation of social welfare lawyers.
The event was organised by the Society of Labour Lawyers. The panel also included shadow attorney general Shami Chakrabarti, shadow solicitor-general and shadow security minister Nick Thomas-Symonds, Law Society vice president Simon Davis, and Richard Atkins QC, vice president of the Bar Council.
Barrister Thomas-Symonds, who was a practising tenant at Civitas Law, the first civil and public law chambers in Wales, told the event about his objections to the government's Counter-Terrorism and Border Security Bill, which has its second reading in the House of Lords next month.
Thomas-Symonds objects to border officers being able to overhear, under the bill, what is said between a detainee and solicitor during consultations.
He said: 'The government is saying it wants to have this power to restrict access to a lawyer because they think somehow the person stopped will abuse their phone call or the person they speak to isn't a bona fide lawyer. There's a simple solution. We have a situation where we have duty solicitors for police stations. There's no reason why something similar could not work in terms of this.'
Highlighting the importance of early legal advice, Davis, a partner at magic circle firm Clifford Chance, said he has had only five trials in his 36 years as a litigation solicitor. 'Solicitors from the word "go" are not trying to extract money from their clients - they are trying to get them out of a hole early,' he said.