A law firm's decision to sack its chief executive was not influenced by his blowing the whistle on alleged financial irregularities, an employment appeal tribunal has ruled.
Mr Justice Cavanagh ruled in favour of Cheshire firm Hilary Meredith Solicitors after Peter Watson had brought a protected disclosures claim. The judge said the employment tribunal, which found in favour of the firm, was entitled to find that Watson's behaviour was 'separate and distinct' from the protected disclosures he was making.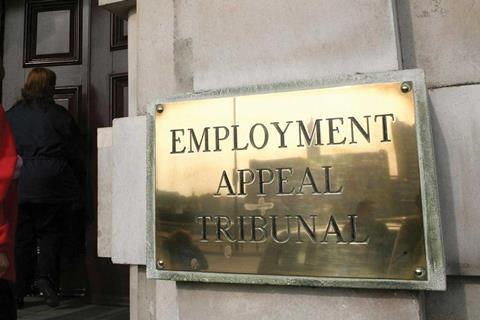 The appeal heard that Watson, had joined Hilary Meredith as chief executive and director in June 2017 on a 12-month contract, investing £100,000 into the firm through a share purchase.
A new finance director, Tim Ritchie, recruited on Watson's recommendation, almost immediately discovered financial irregularities in the business, and the pair made protected disclosures to the firm's owner Hilary Meredith. The disclosures were that costs advances had been wrongly treated as profit costs and not loans, and around £1m was outstanding in unpaid disbursements.
There is no suggestion that Meredith was aware of any alleged irregularities.
Watson resigned soon after and was placed on gardening leave, but relations between him and Meredith remained friendly at this time. The firm requested he return to work but he said this was an unreasonable expectation without evidence showing that financial issues had been addressed.
The firm then told Watson he was expected to attend work and that he would be considered in breach of contract if he did not do so. When Meredith and Watson met two days later, Meredith assured him the problems were not as bad as had been feared, and she said Watson should have 'stayed to work through the problem, rather than running for the hills'. She later told him his behaviour had 'spooked' the staff, the bank and a fellow director who had resigned. Watson was dismissed in 2017 for gross misconduct, with Meredith saying his conduct fell 'substantially short' of what could be expected of a director.
Watson submitted to the EAT that the employment tribunal had erred in law by drawing a distinction between the protected disclosures and the consequences of what he reported. He said the tribunal had failed to consider the possibility that Meredith had been influenced by his disclosures in deciding to dismiss him.
Cavanagh J said the tribunal's findings were consistent with Meredith being motivated by Watson's decision to 'run for the hills' and his failure to stay around to help her solve the business's problems. These grounds of appeal were an attempt to reargue the points made before the tribunal and were dismissed.