Legal aid lawyers cannot wait until a new government gets in to power pledging to save their sector, the shadow justice secretary said last week while urging the lord chancellor to deliver reform now.
The government is expected to publish its response to the ongoing Independent Criminal Legal Aid Review by the end of the year. David Lammy told the Legal Aid Practitioners Group conference that it was his job to 'keep my foot on the pedal in terms of Robert Buckland to make sure [the review] delivers'.
Lammy described the Legal Aid, Sentencing and Punishment of Offenders Act as an 'unmitigated disaster' – advice deserts have emerged across the country and the average age of a duty solicitor is older than he is. 'That cannot wait. That's an urgent problem,' he stressed.
He added: 'Of course a Labour government will tend to these issues. But I'm praying and hoping Robert Buckland delivers some time before then and the sector does not sit back and wait – because I'm not sure we will have much to save if we wait another four years.'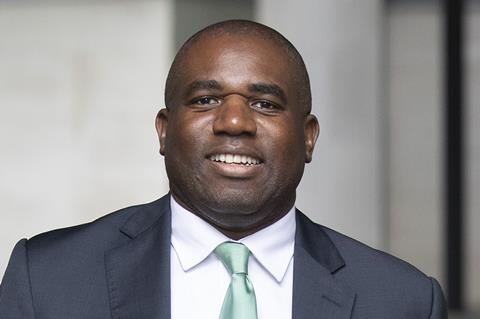 Lammy made his comments on the first day of a week-long conference.
Closing the conference, justice minister Alex Chalk, who was a legal aid practitioner for many years, said: 'I realise being legal aid practitioners can be hard graft… It's tough. I know it's tough.'
Asked about the post-implementation review of LASPO, Chalk said early legal advice 'is what makes the difference'. The means test review 'could potentially be very significant' and the government is also piloting early legal advice in social welfare law.
Chalk said: 'If we want to be able to sell this across government, we have to show this pilot does what we instinctively think it should. We need to be able to show it does deliver the very benefits we expect.
'When you think about the structure of government, the Department for Work and Pensions spends in about two weeks what the Ministry of Justice spends in an entire year. If we can build a solid evidence base about the social welfare pilots, that early legal advice makes a difference for the individual and the taxpayer, that's extremely important.'
Last week's conference covered a broad range of subjects, including family, housing, the Court of Protection, advice needs in Wales, costs, remote working and civil sustainability.
In a session on the legal aid means test review, Phoebe Clapham, who is leading the review at the Ministry of Justice, said the department hopes to publish a consultation by late spring. The government will respond by the end of the year and regulations will be laid in spring 2022. The 'key workstreams' are income and capital thresholds, benefits passporting, contributions, disregarded income and capital, and non-means tested areas.
Publisher Legal Action Group unveiled its latest release, Vicarious Trauma in the Legal Profession, written by former Young Legal Aid Lawyers committee members Rachel Francis and Joanna Fleck. The authors said legal aid lawyers do 'imperative and profound' work which is often 'painful and difficult'.