Litigants who bring proceedings online will not be prevented from changing their mind in future, the government has assured MPs.
Justice minister Paul Maynard MP, speaking at a public bill committee this week, said there was nothing in the Courts and Tribunals (Online Procedure) Bill that requires parties to stay using online services throughout the entirety of their case.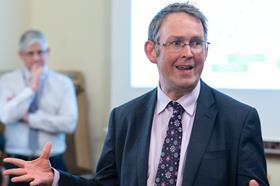 Maynard said the government was aware that some litigants might be less able or confident in using some parts of its digital services, and they will always be able to transact with the court service using paper and digital channels.
'To be clear, litigants will be able to choose to use paper or online options at different points during the same proceedings if they wish to do so, and Her Majesty's Courts and Tribunals Service's approach is built around providing and supporting that choice,' he said.
Maynard was responding to Labour attempts to amend the bill to specify that switching from digital to paper was bound by legislation.
Shadow justice minister Yasmin Qureshi MP accepted that while digitalisation and increased use of technology could make matters easier and save time, it was important to ensure that people were aware they can use conventional paper methods and procedures.
The minister said in response that an amendment was not necessary because such a provision might be outdated in years to come. Committee members voted it down.
Maynard also said that HMCTS had committed to a 'comprehensive package' of assisted digital support through different means, including telephone support. The use of webchat, he added, is also being tested where a person might benefit from focused face-to-face support.
The government also rejected a proposed Labour amendment that the online procedure rule committee should include at least one barrister, solicitor, legal executive and magistrate. Maynard said the committee will initially have six members, including a representative from the legal profession and members from the judiciary, IT and the lay advice sector.
Finally, committee members also voted that the minister should not need to obtain the concurrence of the lord chief justice through the rules committee before decisions are made. This safeguard was previously supported through an amendment in the House of Lords.
Maynard said the Lords amendment 'would diminish the power of the appropriate minister to respond rapidly to changing circumstances, and would effectively give the new committee a power of veto to make rules, which could lead to delays for users who are required to engage with the justice system or for HMCTS in delivering the reforms'.
The bill now moves onto report stage in the House of Commons.