MPs tasked with holding government officials to account for public spending say they have 'limited confidence' in the Ministry of Justice's plans to reduce the court backlog in a damning report published today.
Reporting on the key challenges facing Robert Buckland's department, the Commons Public Accounts Committee said the criminal courts backlog was growing before the pandemic. 'But the ministry and HMCTS could not tell us what level of outstanding caseload is, in their view, acceptable. It is therefore not clear to us what the ministry is aiming for in its plans to reduce the backlog,' the report says.
HM Courts & Tribunals Service data shows that the Crown court backlog reached 56,951 in the week ending 14 February. The pre-Covid baseline is 39,331.
The ministry has been told to write to the committee within one month setting out its plan, including clear projections and timeframes, to reduce the backlog.
The MoJ was criticised for not having a 'firm grip' on the data they need to understand how effective its £1.2bn court reform programme is or its impact on users.
The report says: 'The ministry's new accounting officer told us of her commitment to collect good quality, consistent data to support the reform programme, including data on user satisfaction and justice outcomes. While we welcome this renewed commitment, we are disappointed that the ministry has yet to make significant progress on implementing the recommendations of the Digital Justice report it commissioned in 2019. Despite the court reform programme entering its final stages, the Ministry and HMCTS have also failed to publish the promised evaluation framework that will set out how the ministry will robustly assess the impact of its reform programmes.'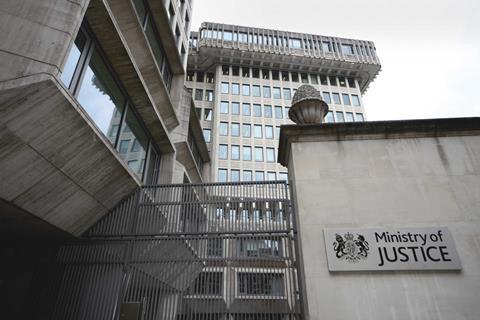 The committee was concerned that a maintenance backlog posed a real threat to achieving a safe and secure prison estate able to accommodate future prison populations. There were 'clear signs of strain' on people working across courts and tribunals, prisons and probation services.
Commenting on the report, Meg Hillier MP, chair of the committee, said: 'Victims and witnesses waiting in limbo because of the long waits for a day in court mean justice is too often being delayed to the point of being denied. The prison estate is creaking and the new prison building programme is still years off completion. The promised extra 20,000 police will create more work for courts and prisons and put more pressure on an already severely overstretched system.
'A prison system operating with a dangerous maintenance backlog continues to swallow billions of taxpayers money but fails to deliver the key benefit society expects from that investment. The probation system is still reeling from 2014's massive and catastrophic experiment in reform and its juddering reversal.
'Our justice system is besieged on all sides and it is not clear the MoJ has a firm grip on this challenge even with a desperately needed funding boost. This isn't justice for victims, offenders, taxpayers or society.'
A Ministry of Justice spokesperson said: 'Our response to coronavirus has saved lives, kept the courts system running, and ultimately protected the public. More and more cases are being heard every week, we have opened 56 Nightingale courtrooms and have a record number open for jury trials. On top of this £450m is being invested to deliver speedier justice for victims and our measures in prisons have ensured infections and deaths have been far lower than experts predicted.'